Sometimes you run into people who are a true inspiration. They may not win medals or public acclaim, but they are determined, cheerful and unpretentious, and generally make the world a better place.
有时你会碰见一些真正让人心潮澎湃的人。他们可能没有赢得过奖牌或是公众的赞扬,可是,他们意志坚定,快乐而谦逊,时常让世界变得更美好。
But I'm getting ahead of the story. Let me back up.
不过,我还是不先忙着下总结,还是从头道来。
People were surprised when we ordered a bicycle online, finding such a large item an odd thing to have delivered -- only partially assembled -- in a box.
我们在网上订购自行车的时候,把这么大的一件预先组装好物品,放在一个箱子里快递,有人会觉得很诧异。
The convenience factor was definitely an attraction, and, as I wrote recently, we were satisfied with the quality of our new Chinese-made bike.
便利这个因素绝对是有吸引力的,而且正如我最近写的那样,我们很满意这辆中国产的新自行车的质量。
Still, I felt a tinge of guilt about buying from a disembodied entity on a screen, especially after reading that China's bike-sharing boom is putting even more pressure on some bicycle shops.
然而,在看到中国的共享单车浪潮对一些自行车商店带来更多的压力之后,在网上从一个非实体店买东西,让我有罪恶感。
Bike shops and mechanics play an important role in the cycling ecosystem. We depend on them, and enjoy being around like-minded souls.
自行车商店和修车人在自行车生态系统中起到很大的作用。我们依赖他们,喜欢与志趣相投的人在一起。
About a year ago, we started patronizing a bicycle mechanic who had a business in a closet-sized space.
大约一年前,我们开始光顾一位修车人的店,他做生意的地方只有一个壁橱那么大。
He had pluck and did good work – he was a little bit of a mechanical wizard, unafraid of rebuilding and modifying things when necessary. He was always smiling and happy to see us. But not too long ago, his budding business disappeared.
他有胆识,干活出色——他有点像机械界的奇才,敢于在有需要的时候对零件进行重建和调整。他总是在微笑,见到我们时总是很开心。但是,就在不久前,他那刚开始崭露头角的生意消失了。
We'd been getting by, going to several places, when a few weeks ago, my wife Delores passed by a small storefront with a new red sign, and bicycles and accessories on display.
几周之前,我妻子德洛丽丝(Delores)路过了一个小店面,上面有一个红色标牌,店里陈列着自行车和配件。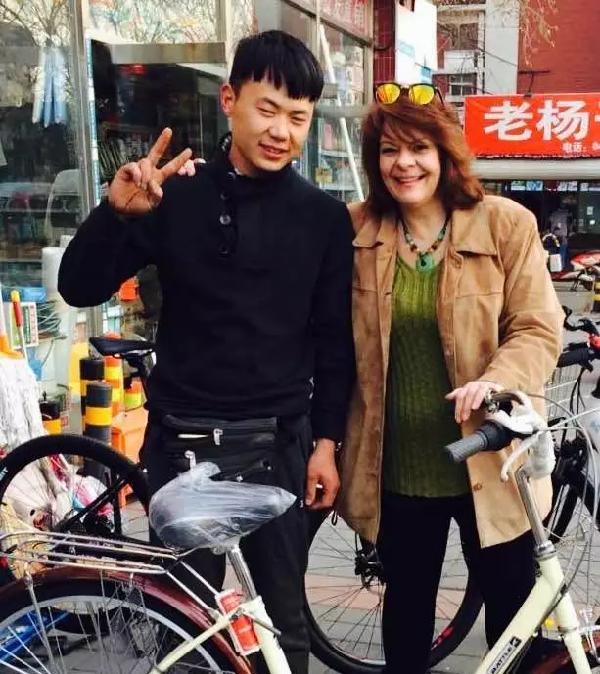 I'll let her pick up the story: "I looked into the shop, and in the doorway stood our guy! I'm not sure which one of us grinned bigger when we saw each other. Despite the language barrier, I managed to make him understand that I had been shocked and sad when I went to his shop and he was gone.
我让她来继续讲故事吧:"我向店里望去,结果在门口看见了我们的老朋友!我不确定我俩见面的时候谁笑得更开心。尽管语言不通,我还是使他明白了当我去他的店,而他却不在了的时候,我有多震惊,多难过。
"He made me understand that the English name he uses is Wally. I am so thrilled we found him again. The whole time I was there, people came by for little things, a squirt of oil or minor adjustments. He'd stop and help them.
"他告诉我他所使用的英文名是Wally。我非常高兴能再次见到他。我在那里时,一直都有人为一些小事而来,给自行车上油或者做些小修整。他总是会停下来帮助他们。
It was really funny -- I could tell from looks and tone and good-natured laughter that he was telling everybody about the funny foreigner lady who was so happy to see him again."
那真的很有趣——我可以从他的表情,语气和友好的笑声看出,他告诉了每个人这个有趣的外国女人再次见到他时是多么的高兴。"
Wally's new storefront is still small, but larger than his previous space. He now carries a modest inventory of road and racing bikes, and takes bankcard payments.
瓦利(Wally)的新店面仍然很小,不过比之前的大。现在店里卖一些公路车和比赛用车,同时接受银行卡支付。
Wally runs the kind of shop that is the heart of a community. Little old ladies ride up to get air for their ancient bicycles and Wally fills their tires for free, with a smile.
瓦利经营的那种小店是整个社区的重要组成部分。小老太太们骑车过来给她们老旧的自行车打气,然后,瓦利会笑着为她们免费提供服务。
He's open nearly all the time and works hard. He's obviously very proud of his little shop. He's a man with a dream whose ethics seem solidly intact. He's the kind of person who inspires loyalty.
他几乎全天都开门,工作很努力。显然,他为自己的小店感到非常自豪。他是一个有梦想的人,他的职业精神似乎洁白无瑕。他是那种能让人有依赖感的人。
You might call Wally an everyday hero.
你可以称瓦利是一位"平凡英雄"。
I feel certain that he will be one of the enduring memories I have of China, no matter how long I live here.
我坚信不管我在中国住多久,他的故事都会是我关于中国的最持久的记忆。
Matt Prichard is a copy editor and writer who works on the front page team of China Daily. He has lived in China for more than four years, in Shanghai and Beijing. Before that, he had a 30-year career as a reporter and editor in the United States and Latin America. He has an ABJ from the University of Georgia and did postgraduate work at the Universidad Nacional del Sur in Argentina. He speaks Spanish fluently and is still learning Mandarin.
责任编辑: