第三届"集美·阿尔勒国际摄影季"海外发布
Announcement of2017Jimei x Arles International Photo Festival in France
时间:2017年7月4日18:00
地点:法国阿尔勒
Location: Croisière, Arles
Time: July 4th 2017,18:00
7月4日,2017集美·阿尔勒国际摄影季主体项目于法国阿尔勒国际摄影节阿尔勒城市中心发布会公布。
The main program of the 2017 Jimei xArles international photo festival is announced at the press conference of Arles Festival in France in the heart of the city of Arles on July 4th.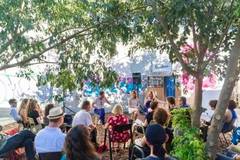 发布会|萨姆·斯道兹、黎静、刘思麟对话现场
Press Conference|Dialogue among Sam Stourdzé, Bérénice Angremy et Celine Liu
萨姆·斯道兹(阿尔勒摄影节总监)、黎静(将出任集美·阿尔勒国际摄影季新一任总监)共同向法国和欧洲媒体公布了关于第三届集美·阿尔勒国际摄影季的消息。三影堂策展人沈宸、视觉主管魏龙文等工作团队出席发布会。从今年起,门艺(DOORS)文化与艺术代理机构将作为合作机构参与筹办摄影季。
Sam Stourdzé, director of Rencontres d'Arles festival, and Bérénice Angremy, who will be appointed director of Jimei Arles international photo festival next September, announced to the French and European medias the 3rd edition of the Jimei Arles international photo festival. Shen Chen(curator), Wei Longwen(visual director) and other team members from Three Shadow Photography Art Center attended the press conference. From this year, the Doors agency will participate as a partner in the festival organisation.
与会嘉宾
Guests
萨姆·斯道兹(Sam Stourdzé)
阿尔勒摄影节总监
Director of Rencontres d'Arles
黎静(Bérénice Angrémy)
集美·阿尔勒国际摄影季总监
Director of Jimei Arles international photo festival
刘思麟(Celine Liu)
2016年集美·阿尔勒发现奖获得者
Winner of 2016 Jimei x Arles Dicovery Award
本届集美·阿尔勒国际摄影季将从2017年11月25日持续至2018年1月3日。世界上最大的国际摄影节——阿尔勒国际摄影节将继续来到中国南方城市厦门集美。集美·阿尔勒国际摄影季由阿尔勒国际摄影节总监萨姆·斯道兹以及中国摄影家、三影堂创办人及总监荣荣共同发起。
萨姆·斯道兹强调了阿尔勒摄影节和三影堂摄影艺术中心将共同精选8个本次阿尔勒摄影节上的精彩展览项目,愿将已有49年历史的阿尔勒摄影节的经验继续带给中国的这一年轻摄影节,并持续同已在中国走过十年历程、富有活力和创造力的三影堂摄影艺术中心合作。
集美·阿尔勒国际摄影季旨在通过其位于中国福建厦门的独特地理区位,联结各亚洲国家,从而为亚洲搭建摄影交流的平台。除展览以外,摄影季还将准备众多相关活动奉献给摄影专业人士、艺术爱好者及公众,包括摄影书市、专家见面会、摄影研讨会、放映会、大学讲座、艺术表演、音乐会以及导览等。
通过分布在厦门城市中的不同现场,摄影季将联动并激活不同的文化区域与空间,使不同的艺术形式在城市中交相辉映。
From November 25th 2017 to January 3rd 2018, the Rencontres d'Arles, the biggest international Photo in the world, will take to Xiamenin the south of China, with the Jimei x Arles Festival, co-created by the director of Rencontres d'Arles Sam Stourdzé and Chinese photographer RongRong,who is also the founder of Three Shadows Photography Art Centre in Beijing and Xiamen.
Sam Stourdzé emphasized the guidelines of the cooperation between Arles festival and Three Shadows Photography Art Centrethat consist on coproducing 8 exhibitions presented in Arles this year, on sharingan expertise of 49 years of festival with young festival in China, and on accompanying a Chinese photography scene that is really full of energy andcreativity these last 10 years.
Jimei x Arles aims at confirming its role as a platform for photography in Asia, benefiting by its unique geographical situation in Xiamen, Fujian province, at the border of many Asian countries. Along with the exhibition program, a number of events will beorganized for photography professionals, art lovers and the public: the Photobook fair, the Photo Folio Review, a Photography Seminar, screenings, university lectures, discussion panels, art performances, concerts and guided tours.
With several sites around Xiamen, the festival means to connect and animate separated cultural areas and spaces, torelay and promulgate different art forms through the city.
萨姆·斯道兹和黎静宣布了本次将前往厦门集美的精选展览项目:
美国街头摄影大师乔尔•迈耶罗维茨将带来他的《往作》,呈现其于上世纪60-80年代创作的精彩彩色原作;来自伊朗的近60位摄影师共同呈现的《伊朗,第38年》展览将呈现极富创造力的作品;法国摄影师马蒂厄·佩尔诺将带来有关吉普赛人家庭的动人故事《格尔根一家》;西班牙年轻艺术家群体将共同带来《空纸》展览;来自法国著名女演员奥黛丽·塔图令人惊喜的自拍展览《表面》是本届阿尔勒摄影节的重要亮点之一;此外,汇集来自全球新秀的"新发现奖"单元的展览和摄影书展览亦将前往集美。
Sam Stourdzé and Bérénice Angremy announced the main selected exhibitions coming from theArles festival 2017:
The American master of streetphotography Joel Meyerowitz, who presents his Earlier Works, beautifulcolor vintage prints from the 60s to the 80's; around 60 photographers from Iran whose works testify creativity since 1979 in Iran, Year 38; movingstory of a gypsy family counted through the eye of French photographer Mathieu Pernot in The Gorgan Family; fresh works of talented young Spanish photographers, members of the collective Blank Paper; surprising self-portraits by Audrey Tautou in Superfacialexhibition, one of the highlights of this year Arles festival; an exhibition of the New Discovery Awards, with emerging talents coming from all the world, as well as a Book Awardsexhibition.
《伊朗,第38年》展览现场
Exhibition of Iran, Year 38
奥黛丽·塔图《表面》展览现场
Exhibition of Superfacial, Audrey Tautou
今年阿尔勒摄影节的主要展览正每日吸引着成千上万的观众到访法国,而这些被选择前往集美的展览亦是对目前发生在中国的重要摄影现状的回应和激励。
黎静还介绍了集美·阿尔勒国际摄影季的其他重要内容,包括摄影季将继续通过10余个由青年策展人策划的展览项目以及"集美·阿尔勒发现奖"为中国摄影师搭建重要的发声场。此外,摄影季还将每年关注一个亚洲国家的摄影状况,并以此确立其展现亚洲摄影的平台定位。而今年,印度尼西亚将作为特邀国参与到摄影季中。萨姆·斯道兹和黎静随后还邀请了相关媒体参加2017年9月9日于上海影像博览会期间举行的下一次新闻发布会。
Major programs of this year in Arles festival, these exhibitions that attract thousands of visitors right now in France, have been selected to echo and to stimulate some reflections that are important on the photography scene in China.
Besides, Bérénice Angremy introduced the main other lines of the Jimei-Arles festival that will continue to provide a great platform for Chinese photographers through a dozen exhibitions curated by young curators, as well as the Jimei-Arles Discovery Award. The festival will also confirm its identity of a major platform for Asia photography by focusing each year on an Asian country. This year, Indonesia has been selected as the special guest country. Sam Stourdzé and Bérénice Angremy then invited the medias to attend to thenext press conference that will be hold in Shanghai on September 9th 2017, at the occasion of Shanghai Photo Fair.
2016年"集美·阿尔勒发现奖"大奖得主刘思麟也参与了此次新闻发布会。刘思麟的展览《I'm Everywhere》位于阿尔勒摄影节的主展厅,她在现场向媒体及观众介绍了她的作品。刘思麟1990年出生于中国,她的作品意在对年轻一代日常图像修改行为加以回应和反思。正如萨姆所强调的,艺术家准确地知晓着世界上正在发生的事情,并通过地方性经验以幽默的方式将它们生产为新的艺术形态。这个鲜活的展览已经吸引了众多观众前来观看。
The laureate of the Jimei-Arles Discovery Award 2016, Celine Liu (Li Silin) presented to the press and to the audience her exhibition I'm everywherethat is presented in one of the major sites of this year Arles festival, in the Atelier Mécanique. Reflecting the interrogations of a young generation that manipulate images everyday, Liu Silin, born in China in 1990, inserts herself in iconic photos. As Sam Stourdzé emphasized, the artist knows exactly what's happening in the world, and plays with that knowledge with her local experiences to produce anew art form. It's not about documenting changes in China, but (instead), it's going global. The result is a very fresh exhibition that already attracted thousands of visitors. 返回搜狐,查看更多
责任编辑: