卤代烃中的氯原子或溴原子被碘原子的取代是碘代烃的重要合成方法。卤代烃的活性次序为:伯>仲>叔,烯基卤化物的活性更弱。一般的操作是将卤代烃与碘化物(碘化钠)在适当的溶剂中回流。常用的溶剂有:丙酮,四氯化碳,DMF等。
氯代物系列

In a dry, 100-mL, two-necked, round-bottomed flaskequipped with a magnetic stirring bar, a reflux condenser, and a rubber septumis placed 15.0 g (0.10mol) of sodium iodide. A nitrogen inlet tube is connected to the topof the reflux condenser and all the apparatus is kept under nitrogen.To this vessel are added 50 mL of acetoneand 11.5 mL (10 g, 0.066mol) of 1-chloro-3-trimethylsilylpropanewith a hypodermic syringethrough the septum; the resulting white suspension is stirred under reflux for24 hr. The condenser is replaced with a Claisen head, and the bulk of thesolvent is removed under ordinary pressure to give a white slurry. To this isadded 60 mL of hexaneand the inorganic salts are filtered off by suction.The filter cake is washed with five 10-mL portions of hexane.The hexaneis distilled off from the combined organic portions atatmospheric pressure. The residual oil is transferred to a 50-mL,round-bottomed flask fitted with a stirring bar and a Claisen head, and isdistilled under reduced pressure to afford 1-iodo-3-trimethylsilylpropane1 (11.5–13.1 g,72–81%), bp 84–86°C (25 mm), as a clear liquid.
【Organic Syntheses, Coll. Vol. 8, p.486;Vol. 66, p.87】

A mixture of 170 g.of anhydrous sodium iodideand 1.2 l.of methyl ethyl ketoneis heated on a steam bath for 1 hour withoccasional shaking in a 3-l. round-bottomed flask fitted with a water-cooledreflux condenser. 2-Chloroethylbenzoate(162 g.,0.88 mole) is added to the mixture, and heating is maintained for an additional22–24 hours with occasional shaking. The mixture is cooled to room temperatureand filtered through a 15-cm. Büchner funnel with suction. The inorganic saltson the filter are washed with 200 ml. of methyl ethylketone, and the filtrate is concentrated by distillation of about 1 l. of the solvent. The residue ispoured into 1 l. ofwater contained in a separatory funnel, which is shaken, and the lower layer iswithdrawn. The latter is washed successively with 200 ml. of 10% sodiumbisulfitesolution, 200 ml. of 5% sodiumbicarbonatesolution, and 100 ml. of water. It is dried withanhydrous magnesium sulfate(5–7 g.)and fractionated under reduced pressure. The yield of material boiling at133–136°/2.5 mm., nD15 1.5820,is 190–196 g. (78–81%).
【Organic Syntheses, Coll. Vol. 4, p.84;Vol. 30, p.10】

A.Ethyl3-iodopropionate . A 1-L, round-bottomed flask equipped with a magneticstirring barand a reflux condenser is charged with ethyl3-chloropropionate (27.3 g,0.2 mol) (Note1) and acetone(400 mL).Sodiumiodide (300 g,2 mol) (Note2) is added to the clear solution and the mixture is refluxed for 16hr. The resulting pale yellow reaction mixture is cooled to room temperature,the stirring bar and reflux condenser are removed and the acetoneis removed ona rotary evaporator at 40°C/550mbar (412 mm). The residueis taken up in diethylether (300 mL) and washed with a saturated aqueous solution of sodiumthiosulfate (3 × 100 mL). The ethereal phase is dried over anhydrous magnesiumsulfate ,filtered and the ether is removed by rotary evaporation at 40°C. The resulting yellow oil ispurified by distillation with a membrane pump 90°C/25mbar (18.7 mm) yielding 36.8 g of ethyl3-iodopropionate as a clear oil (82%) Spectral data are as follows: IR (KBr) cm−1: 2981 (m), 1372 (m), 1213(s) ; 1H NMR(300 MHz, CDCl3) δ:1.26 (t, 3 H, J = 7.1), 2.95 (t, 2 H, J = 7.5), 3.32 (t, 2 H, J = 7.5), 4.15(q, 2 H, J = 7.1) ; 13C NMR (75 MHz, CDCl3) δ: −3.3, 14.6, 39.0, 61.3, 171.4 . MS (EI, 70 eV): 228 (33), 183(27), 155 (67), 101 (100), 73 (49) . Anal. Calcd for C5H9IO2: C,26.34; H, 3.98. Found: C, 26.27; H, 3.96.
【Organic Syntheses, Coll. Vol. 10, p.391 (2004); Vol. 79,p.35 (2002).】
溴代物系列

A mixture of bromide (5.00 g, 15.1 mol) and potassium iodide (15 g) in DMF (50 mL) was stirred for 15hrat 50 °C. The mixture was poured onto ice and theresulting crystalline product was dissolved in dichloromethane (100 mL). The solution was washed successively with20-mL portions of 5% aqueous sodium hydrogen sulfite and water and the driedorganic layer was evaporated. The resultantsyrup was crystallized from isopropyl alcohol-water to give iodide as whiteneedles (4.65 g, yield: 82%)
【J. O. C., 1969, 34, 11, 3519-3522】

A. 2-(3-Iodopropyl)-1H-isoindole-1,3(2H)-dione2.A dry, one-necked, 500-mL, round-bottomed flask equippedwith a magnetic stirring bar and a reflux condenser with a gas inlet at the top, is charged with 13.4 g(50 mmol) of 2-(3-bromopropyl)-1H-isoindole-1,3(2H)-dione 1 (Note1), 17.95 g(120 mmol) of sodium iodide (Note2), and 100 mL of acetone. The reactionmixture is stirred at reflux under nitrogen for 21 hr (Note3). The solvent is removed on a rotaryevaporatorand the resulting solid is dissolved in 300 mL of dichloromethane and 200 mL of water.The two layers are separated in a separatory funnel and the aqueouslayer is extracted with two 100-mL portions of dichloromethane. The combinedorganic extracts are washed successively with 100 mL of anaqueous 10% solution of sodiumthiosulfate, three 100-mL portions of water and 150 mL ofbrine.The organic layer is dried over anhydrous magnesiumsulfate.After filtration, the solvent is removed on a rotary evaporator. The crudewhite solid is dried for several hours at room temperature under reducedpressure to remove traces of solvent [15.0–15.5 g (47.6–49.2mmol)95–98% yield]. This material can be used directly in the nextstep. The iodide 2 can berecrystallized from hexane/dichloromethane to give whiteneedles; mp 87–88°C.6 The spectra are asfollows: IR (CH2Cl2) cm−1: 3054.6 (m), 2892.5(w), 1773.8 (m), 1716.1 (s), 1435.8 (s), 1396.3 (m), 1265.6 (s); 1H NMR (360 MHz, CDCl3) δ: 2.25 (m, 2 H),3.16 (t, 2 H, J = 7.2), 3.78 (t, 2 H, J = 3.6), 7.34 (dd, 2 H, J = 6.0 and3.1); 7.86 (dd, 2 H, J = 6.0 and 3.1); 13C NMR (90.5 MHz, CDCl3) δ: 2.1, 32.6, 38.2,132.7, 134.8, 168.4.
【Organic Syntheses, Coll. Vol. 9, p.502 (1998); Vol. 70,p.195 (1992).】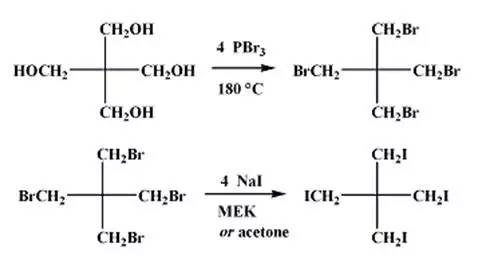 (A) PentaerythritylBromide.—One hundred twenty-five grams (0.92 mole) of dry pentaerythritol (Org. Syn. Coll. Vol. I, 1941,425) is placed in a 500-cc. round-bottomed flask provided with an air-cooledreflux condenser bearing at the upper end a long-stemmed dropping funnel and a bentglass tube.The tube is connected to a suitable trap for absorbing the large quantity of hydrogenbromidewhich is evolved. The flask is heated on a steam bath, and 500 g. (175 cc.,1.85 moles) of freshly distilled phosphorustribromide (p. 359) is addedcautiously from the dropping funnel. When this addition has been completed thesteam bath is replaced by an oil bath and the temperature is raised graduallyto 170–180° (Note1). After heating at this temperature for twenty hours, theorange-red reaction mixture is transferred to a beaker containing 1 l. of cold water and stirred thoroughlyto reduce the lumps to a small size. The red, flocculent material is filteredwith suction and washed several times with hot water; finally it is washedthoroughly with two 200-cc. portions of cold 95 per cent ethylalcohol (Note2). After drying, the material is transferred to a largeSoxhlet extractor and extracted exhaustively with 95 per cent alcohol (Note3). The pentaerythritylbromideseparates from the alcohol and after cooling is collected with suction. Theyield of crude product melting at 158–160° is 245–270 g. (69–76 per cent of thetheoretical amount); this material is sufficiently pure for conversion to theiodide (Note4). For purification, the crude product may be recrystallized from 95per cent alcohol, using 30 cc. of solvent per gram; the melting point israised to 163°, and the recovery is about 85 per cent.
(B) PentaerythritylIodide.—Ina 500-cc. round-bottomed flask fitted with a refluxcondenser,a mixture of 100 g.(0.67 mole) of sodium iodide (dried at 120°), 300 cc. (240 g.) of ethylmethyl ketone (Note5), and 50 g.(0.13 mole) of crude pentaerythritylbromide(m.p. 158–160°) is refluxed on a steam bath for forty-eight hours. Thecondenser is set for distillation, the solvent is distilled, and the residue iswashed into a hot Büchner funnel with hot water. The product is washed thoroughly on thefunnel with boiling water, pressed well, and transferred to a large Soxhlet extractor.To remove impurities the material is extracted with boiling 95per cent alcohol until a sample removed from the extraction thimble meltsat 233° (Note6). The product is then removed from the thimble and dried; theyield is 66–73 g. (89–98 per cent of thetheoretical amount). The crude product may be recrystallized from hot benzene, using about 18 cc.of solvent per gram. The recovery is about 80 per cent, and themelting point is not changed.
【Organic Syntheses,Coll. Vol. 2, p.476 (1943); Vol. 17, p.73 (1937).】
本文非原创内容,版权归原作者所有。返回搜狐,查看更多
责任编辑: