殖民百年,易帜廿载,风雨苍黄。香港,一座拥有着非凡历史的城市,有人说香港的楼是冰冷的,但人是温暖的,而思想是炽热的。确实,因为有此,香港文化在大部分亚洲地区中是独树一帜的,香港的美食也是旅人心头的一道光。
Hong Kong was a British colony for 100 years and has only since been reabsorbed by China in 1997. Hong Kong has been known to be a vibrant and historical city that has been rife with turbulent change. People say that Hong Kong's buildings are cold, the people are warm, and thoughts are ablaze. Hong Kong's cultureis unique within the Asian region; the culinary scene is a shining beacon in the minds of travelers and tourists from all over the globe.
Bo Innovation
香港是一个全球美食爱好者的目的地,而Bo Innovation: The Hong Kong Story则在这座城市的中心地点阐述了香港的故事, 阐述了厨魔视角的灵感、起源和旅程。
Hong Kong is the destination of global gourmands, and Bo Innovation: The Hong Kong Story is located in the heart of the city in Wan Chai. The concept reveals the illustrious story of Hong Kong, being told through the Demon Chef's vision of the inspirations, origins and the journey behind the gastronomic feast.
Bo在粤语发音中是"宝"的意思,这是厨魔旗下最珍藏奢华的品牌。而关于这套菜单,Alvin说:「比以往任何时候都更炫耀香港。这是关于我从小到现在看到和了解的香港。」
Bo, in the Cantonese dialect translates to"treasure"; it is Demon Chef's flagship venue and his most treasured, luxury brand. The Hong Kong Story is featured in these set of menus with the Demon Chef proclaiming that "Now, more than ever is the time to show off and celebrate the enchanting city. It is what I have seen and understood about Hong Kong from my childhood to the present."
Alvin虽然一直走在创新的路上,但一直都视传统和经典为"宝"。他在香港寻找那些正在消逝却值得珍惜的手艺,他视之为"宝Treasure"。Alvin谈到这些,手舞足蹈得就像一个香港大男孩,"我找到一个80岁的工匠做特制的汤碗。他是这个正在消逝的手艺的最后一个在世传人了。我委托最后一个尚在经营的公司在香港为我定制制作手工涂漆的碗。另外,香港最后一家手工做茶壶的公司也为我们定制了茶壶。我还寻求了九龙的一位师傅定做了屠夫砍刀做我们的晚餐刀。他们是香港最后一代依然坚守手工制作(Made-in-Hong-Kong)的人。 这之中的手工饱含了爱和感激,构成了这个城市的一部分,我是一个香港人,对此很感动也很有感触。在某种程度上来说,这个餐厅是我在'偿还'这个城市所赋予我的。"
Despite being a pioneer in the way of innovation, Chef Leung has always paid his respects to the the traditions and classic as "treasure". Alvin is in Hong Kong, searching for the dying craft of his era which is fading away but definitely worth being cherished as another form of "treasure". The Demon Chef turned into a big kid when he talked about Bo Innovation; "I found an old craftsman to make our soup bowl! He is the last person in the world who has this unique technology. I commissioned the last operating company in Hong Kong to make my hand-painted bowl. In addition, Hong Kong's last hand-made teapot company also customized our teapot. I also found a hand-made master of Kowloon to make a rendition of the Chinese cleaver for our dinner knife. They are the last generation of Hong Kong who still practices and reveres the art of hand-made skills. Their love and passion constitute a part of this great city. I am a person from Hong Kong, touched by everything from Hong Kong. In some degree, this restaurant is my "repayment" to the city for everything that it has provided me.
Bo Innovation的另一个身份,是蝉联了2014至2017四年的米其林三星的餐厅。成立13年的Bo Innovation背后的主厨兼老板Alvin Leung梁经伦,目前旗下的餐厅已摘得五颗米其林星,系华人界带领餐厅获得米其林最多的厨师。
Bo Innovation has held the most coveted Michelin 3-Star rating from 2014 to 2017. After 13 years of establishment and multiple location changes, the Chef owner Alvin Leung is among the most celebrated chefs within the Chinese community and has earned a total of 5 stars to date throughout all of his venues.
经过入口处以灯管砌成的地铁路线图,映入眼帘的是一幅由本地艺术家所绘、以香港过去重要事件为题的大型彩绘,加上各式本地特制的食具或古董,搬迁后的店子带有浓浓的本土色彩。老板兼主厨梁经伦热衷为传统食谱作全新演绎;餐厅大部分座位只供应套餐,如欲自选菜式,请要求吧台位置。
——米其林指南评审员
When you pass through the entrance of Bo Innovation, the lamp array sheds light on a subway map, followed by alarge-scale painting (painted by a local artist) which is based on some of Hong Kong's more remarkable events. Once you take in some of the introductory scenery, you can study each locality's special utensils and antiques. After the most recent relocation, the restaurant embodies a strong local colour and style. Being the owner and chef, Alvin is enthusiastic about representing traditional recipes but reimagining the components as he sees fit.
——Michelin Guide Inspectors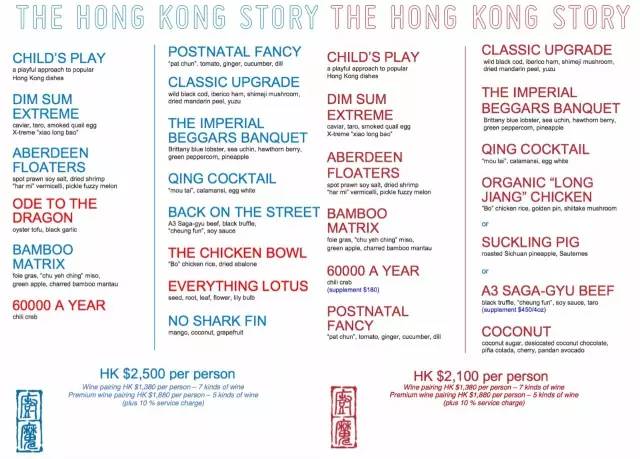 (此次菜单以实际现场为准)
作为Fine Dinning餐厅,Bo Innovation提供红蓝两色Tasting Menu,灵感来源于丰富多样的香港料理文化。从街边小吃到经典港餐,融入主厨X-treme Chinese的烹饪哲学,用分子料理诠释不一样的香港故事。
As a fine dining restaurant, Bo Innovation serves both the red and the blue tasting menus, with the inspiration behind them being from street food to classical restaurant settings. The food is a combination of the traditional favourites that have been adapted with Alvin's X-treme Chinese cuisine philosophy and modern cooking techniques to form his Hong Kong Story.
平衡与冲突、对比与融合、你所见与所不见,菜的载体与灵魂,让人惊叹,让人难忘。
There is a very fine line between balance and conflict, contrast and harmony, the seen and the unseen, the corporeal and ethereal composition of a dish which leaves people with an unforgettable experience.
Alvin Leung
Alvin Leung生于伦敦,成长于加拿大。出生在一个工程师世界的他,40岁之前,自然也是一名工程师;但因为热爱和天赋,40岁之后,自学成才改行厨师(世界上第一位自学成才获得米其林荣誉的厨师),凭借餐厅Bo Innovation摘得了米其林三星,他叫自己厨魔Demon Chef,因有着强烈个人风格的"终极中餐X-treme Chinese Cuisine"而闻名。
Alvin Leung was born in London in 1961, and was raised in Scarborough, Ontario, Canada. Alvin Leung was an engineer before the age of 40, but his passion and gifts led him down the culinary path. Alvin Leung is the only self-taught Michelin starred Chinese chef. As part of his career, he developed his style as being very edgy, which also resulted in his moniker,"The Demon Chef".
Alvin Leung是《Master Chef Canada》的评审之一,在行业中以高标准出名,"把标准定得很高,然后去做。"这是一直以来,Chef Alvin Leung对自己的要求。美食和所有的艺术品一样,需要勤奋、思考、高标准及创造力。而在Alvin Leung先生荣誉与传奇背后,是除去天赋以外,更实际的热爱和付出。
Alvin Leung appeared on the TV show Master Chef Canada as one of 3 judges. He continues to push for higher and higher accolades in his career. Food is similar to art; it needs diligent work, thoughtful thinking and high creativity. Behind his legend and glory, only hard-work and passion can extend his story.
继Bo Innovation之后,Alvin Leung在上海开设了同系列的Bo Shanghai。餐厅位于外滩五号,菜品上完全不同于香港店,热衷于探索的Alvin为我们带来了一个全新的故事,讲述的是中国传统八大菜系。"发现"菜单中每道菜会代表一个菜系,以当地特色或文化为灵感,以其烹饪思维X-treme Chinese来解构和重组我们似曾相识的食物。
After Bo Innovation, the Demon Chef sought to extend his legacy by establishing another extension of his flagship in Shanghai which is located on the Bund. The concept behind Bo Shanghai is a journey through the 8 silos of Chinese cuisine which has been paired within fluences from a partner country. The menu is purposely designed to be completely different from that of Hong Kong in order to delight guests once again with another branch of Chinese cuisine. In the Discover menu, every single dish will showcase Chinese classics with X-treme Chinese cuisine through reinterpretation and innovation.
Pop-up in Shanghai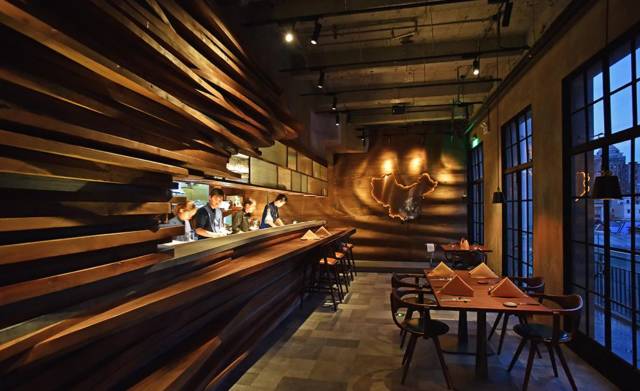 Alvin Leung以及其创立的Bo Innovation,以其大胆和开创性的菜肴的烹饪哲学"终极中餐X-treme Chinese Cuisine"而闻名,以现代的手法来呈现中国的饮食文化和变迁。他常说:Innovation has no boundary。这一次Alvin本人将带领香港团队来到他在上海的餐厅Bo Shanghai,带来Bo Innovation香港菜单,我们也将在大陆地区首次体验到Bo Innovation的菜品。
Alvin Leung established Bo Innovation, using his innovative and bold approach became well-known with his new cooking concept of "X-treme Chinese Cuisine" which embodies taking modern cooking techniques to reinterpret the grand culture of Chinese cuisine. Chef Alvin always says: Innovation has no boundary.This time, the Demon Chef Alvin Leung and his team from Bo Innovation are in town and bringing you the exclusive launch of the Hong Kong menu here in Shanghai. Come and join us in this joyous occasion as seating is very limited.
时间:2017年8月25日至2017年8月28日
地点:Bo Shanghai
(黄浦区广东路20号 外滩五号 6楼 )
价格:2080RMB/位(另收10%服务费)
Child's Play
第一道菜,容器就很特别,是小时候的玩具——飞行棋棋盘,所以故事便是由童年开始。七十年代,香港在国际上被誉为制造业中心,特别是玩具。这个托盘的灵感来自于孩子们玩的棋盘游戏。盘中盛放着三种不同的小食,是对于一些标志性的香港菜肴的俏皮演绎。
In the 70s, Hong Kong was known internationally as a manufacturing hub, particularly for toys. This tray is inspired by a board game played by children. The original version of this board game can be seen in the flagship restaurant in the Bo Innovation display case. The snacks are a playful approach to some iconic Hong Kong dishes.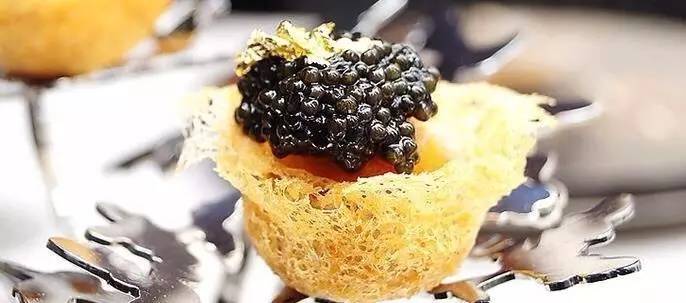 Dimsum Extreme
Chef Alvin Leung最喜欢的是香辣的芋头饺子。芋头是一种与马铃薯相似的根类植物。厨师把它炸成类似巢形,里面是茉莉花茶叶熏制的鹌鹑蛋,顶层放上一层厚厚的鱼子酱。巢是中国文化中家庭的象征,它通常用于婚礼宴会的菜肴来代表生育力。而这道菜的口感冲击力极强,是带着新生力量的口感。
One of Chef Alvin Leung's favourite dimsums is the crispy taro dumpling. Taro is a very starchy root vegetable similar to potato. We have fried it to resemble the shape of a nest. Our interpretation provides eggs in abundance. Encapsulated within the taro nest is a Jasmine tea leaf smoked quail egg, topped with sustainable caviar from Yunnan, China. The nest is symbolic of family in Chinese culture. It is often used in dishes at wedding banquets to also represent fertility. The most famous bird's nest in China is the stadium located in Beijing.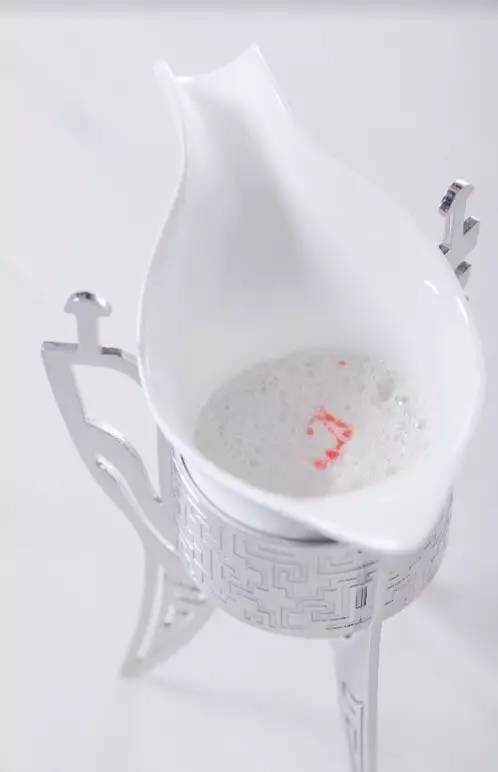 QingCocktail
茅台可以说是中国的国酒之一。许多商人在达成合作后会举杯共饮茅台来庆祝,这种礼仪源自清朝。茅台是用高粱经过发酵,然后在陶土容器中陈年制成的一种白酒。白酒是带着强烈气味的透明液体,其口味的特色也是烈。从这个角度出发,我们将它设计成为一款清口用的鸡尾酒,在里面添加了蛋清和柑橘柠檬汁。高杯酒的灵感源于清代皇室,皇室人员敬酒时,需要用双手端着容器的两边给皇帝,所以我们在上菜过程中也将沿袭这样的一个礼节。客人可以用双手的食指和拇指端起容器,仰头而饮,一饮而尽。
Mao Tai is globally renowned as the national drink of China. A lot of businessmen will toast with it after completing a deal. It was invented during the Qing Dynasty, fermented from sorghum and aged in terracotta jars. Also known as "Bai Jiu" or white liquor, it has very high alcohol content and is translucent. We have made a palette cleansing cocktail with it, adding egg whites and calamansi juice. The goblet is inspired from the imperial Qing dynasty. Drinks served to the emperor were presented with two hands which set the standard for anything given with respect. The idea is to grasp the handles with your fingers and just tilt the King's cup back, looking to the heavens as you drink.
Back On The Street
这道菜灵感与它的名字一样,来自经典香港街头小吃——猪肠粉。 肠粉加上印度进口的初道酱油,黑松露,并搭配了A3级别的日本佐贺牛肉。食材称得上是奢华稀有,但食用方式依旧Back On The Street——以锡纸包裹并用竹签食用。
The Demon Chef avidly enjoyed eating Hong Kong street food as a child. One of his favourites was cheung fun, asteamed rice roll, often flavoured with soy sauce. He elevated the taste profile from the street to fine dining with the use of virgin, first pressed soy sauce, black truffles and then topped with slices of Japanese A3 Saga-Gyu beef. The dish is still being served in the same way you would find it on the street, on a tin platter lined with paper and eaten with skewers.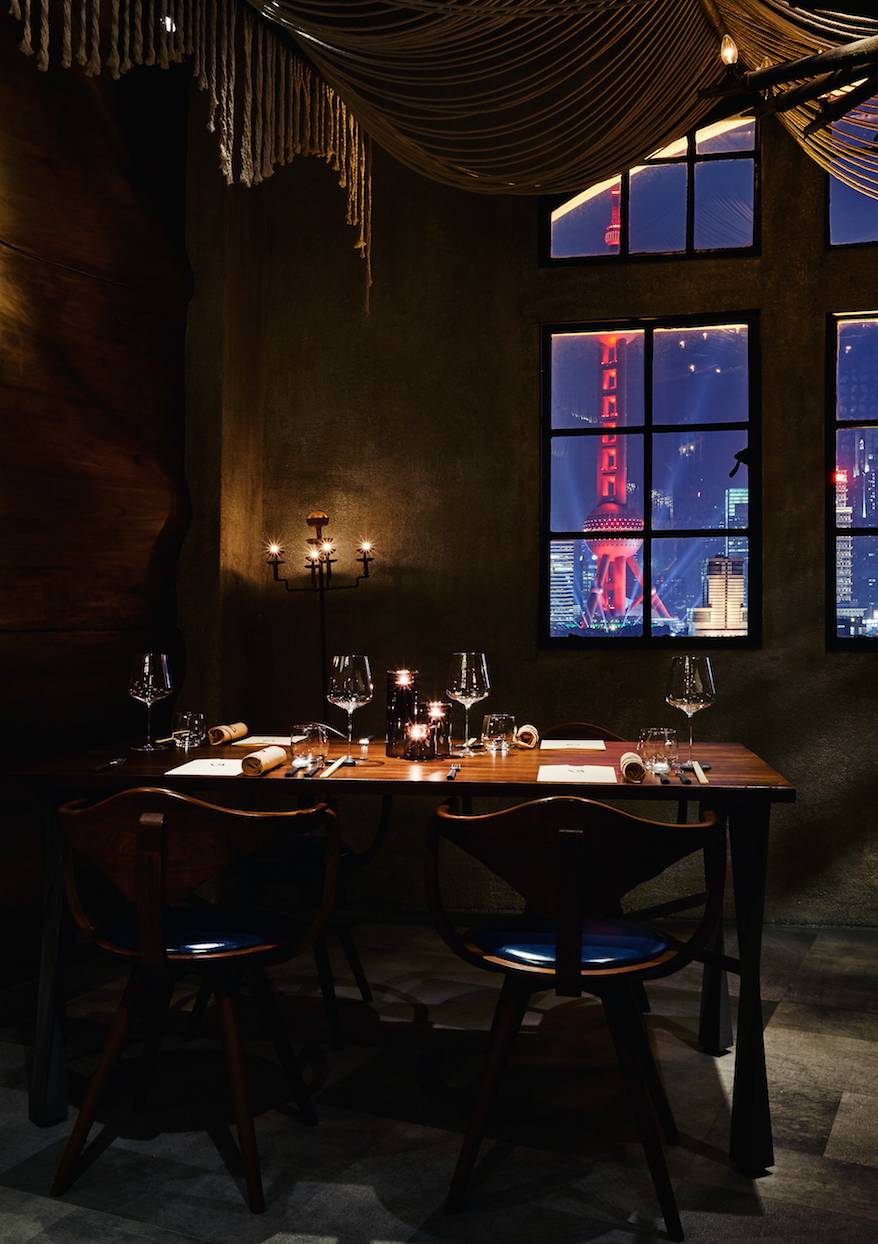 以上为部分菜品,希望由此机会与食客更多地分享Bo系列餐厅的文化与内涵。本次活动采用预约制,预约付款链接在文章底部的阅读原文中,名额有限,一旦预约成功,不再退款,如有变动,可自行转让,更多信息请询:
These are only some of the many dishes featured on the menu which we hope to share our stories and philosophies from Bo with our valued guests. To make a reservation, simply click into the link provided at the end of this article, and please be advised that this event is by reservation only. Seating is limited and no refund will be made once the reservation has been made. Transfer of tickets to peers is allowed. For more information please refer to the following:
上海
东京
责任编辑: