小长假即将结束,该带着孩子一起收收心啦~
冰冰老师今天带来了名著共读第一期第三篇,跟着冰冰老师一起,用耳朵听,带脑子想,用嘴巴说~
MaxEn 李冰冰▵
本期的读本是《Peter Pan》,由迈格森留学预备老师李冰冰阅读和讲解。
CHAPTER THREE
The Neverland Arrives
Part1▵
As soon as Mr. and Mrs. Darling entered their neighbor's house, a blight little light flew down from the sky. The light looked like a little star, but it was not a star, it was a small fairy named Tinker Bell. Tink turned off the small night light in the children' s room and began to look around the room for Peter's shadow. She looked into all the furniture, all the drawers, and even into the pockets of the children's clothes.
Tinker Bell was smaller than a child's hand and very lovely. She was wearing a dress made of tiny tree leaves and a very bright light came out of her. She was bright because she was covered with silver fairy dust. A minute after Tink entered the nursery, the little stars blew open the window and Peter flew in. He looked at all three beds to see if the children were asleep. Then he quietly asked Tinker Bell, "Have you found my shadow?"
Part1 重点词汇
fairy
[释义]
小精灵
silver fairy dust
[释义]
银色的魔法粉末
Part 2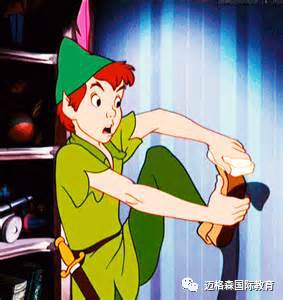 Part2▵
Tink pointed at some drawers. Peter opened them and pulled all the clothing out, throwing all of it onto the floor. Finally,he found his shadow.
Peter Pan had never lost his shadow before. He thought that once he found it, it would just join itself to him again. It did not. Peter became angry and flew into the bathroom and found some soap. He then tried to join his shadow onto him with some soap, but he failed. Peter became afraid that his shadow would never join him again. He sat down on the floor and began to cry loudly.
The sound of his crying awakened Wendy, and she sat up in bed.
"Why are you crying, boy?" Wendy asked; she was not scared at seeing this stranger in the nursery.
Peter did not answer,instead he stood up and bowed his head politely to her.
"What is your name?" Peter asked.
"My name is Wendy Moira Angela Darling. What's yours?"
"I'm Peter Pan. "
"I knew it!" Wendy cried, "I knew you must be Peter Pan! "
Peter looked happy that Wendy had heard of him.
"What is your whole name?" she asked.
"That is my whole name." he replied, realizing for the first time that it was a very short name.
"I'm so sorry, "said Wendy Moira Angela Darling.
"It doesn't matter," said Peter nervously.
"Where do you live, Peter Pan?"
"I live in Neverland." Peter replied. "You just go towards the second star on the right and then fly straight forward until morning. "
"That's a very funny address!"
"No, it isn't!" Peter cried.
Wendy then remembered that Peter was a guest in her house and said "sorry".
"What address do people write on letters?"
"I don't receive any letters," said Peter.
"Certainly your mother must get letters," Wendy asked again.
"I don't have a mother," He told her.
Peter was glad that he didn't have a mother. But he didn't tell Wendy. He thought that all adults were very boring.
Wendy loved her mother and felt a great pity for Peter; she ran to his side.
"No wonder you're here crying!" she cried.
"I'm not crying about not having a mother. " Peter said, "I'm crying because my shadow won't join with me.
Part2 重点词汇
shadow
[释义]
影子
Part2 佳句赏析
He then tried to join his shadow onto him with some soap, but he failed.
[释义]
他试图用肥皂把自己的影子粘到自己身上,但是失败了。
Part 3
Part3▵
Wendy looked down and saw Peter's shadow lying on the floor. Wendy laughed at Peter when she saw that he had tried to join it to him using soap.
"I can help you,"she said. "I will sew it back on. It may hurt a little bit, but please try not to cry. I don't want my little brothers to wake up. "
"What does 'sew' mean?" asked Peter.
Wendy did not answer; she simply found a needle and some string and sewed the shadow to Peter's foot.
When she was done, Peter ran around the room, dancing and shouting: "I am so clever! I've put my shadow back on!" Peter had already forgotten that Wendy had helped him.
Wendy became angry and forgot to be a good hostess. She jumped back into her bed and pulled the blankets over her head.
"Please don't go away, Wendy Moira Angela Darling!" he cried, "I was just so pleased that my shadow was back."
Wendy still refused to come out. Peter thought that if he said nice things to her she might come out.
"Wendy, did you know that one girl is as useful as twenty boys! "
Wendy liked Peter's voice and his kind words. She looked out from her blankets and, a few moments later. got out of bed and sat next to Peter.
Part3 重点词汇
needle
[释义]
针
string
[释义]
线
sew the shadow to Peter's foot
[释义]
把影子缝到peter的脚上
Part 4
Part4▵
"Your words were very nice," she said, "I'd like to give you a kiss now, if you don't mind. "
Peter did not know what a kiss was, so he opened his hand and waited for Wendy to put something into it. Wendy moved her face closer toward Peter, but before she kissed him, he put a button into her hand.
Wendy was a polite hostess, so she pulled her face away from his and said, "Thank you Peter, I would love to wear this 'kiss' on the necklace around my neck. " Wendy did not know that wearing this button necklace would save her life one day!
"How old are you, Peter?" Wendy asked.
Peter looked nervous and uncomfortable.
"I don't know how old I am," he finally replied. "but I am very young. "
Wendy thought that Peter was full of interesting secrets!
"I ran away from home when I was very young," Peter continued, "The day I was born I heard my mother and father talking about what I should become when I grew up into a man.
They had many ideas about what kind of work I should do and who I should marry and how many kids I should have. I didn't want to be an adult. I want to be a little boy forever and I always want to have lots of fun. So I left home and went to live with the fairies in Neverland. "
Wendy was very excited by his interesting stories. She had never traveled far away from home and she certainly had never met any fairies.
Peter felt pity for Wendy and told her many stories about Neverland and fairies.
"Each time a child is born a fairy is born in Neverland. Every boy and girl in the world should each have their own fairy," he said, "But now many children don't believe in fairies. And each time a child says I don't believe in fairies,' a fairy in Neverland falls down dead. My fairy's name is Tinker Bell. I wonder where she went. "
Wendy became very excited and grasped Peter's hand.
Part4 佳句赏析
"Each time a child is born a fairy is born in Neverland. Every boy and girl in the world should each have their own fairy,"
[释义]
每个孩子出生的时候,Neverland上就会诞生一个小精灵,每个孩子都会有自己的那个小精灵。
Part 5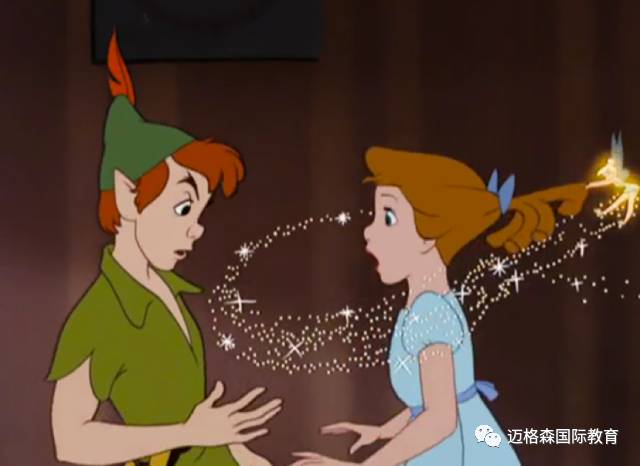 Part5▵
"Are you saying that there's a fairy in this room?"
"Yes, she was just here a minute ago. Listen!"
Wendy listened. "I hear the sound of bells ringing," said Wendy.
"Yes, that's Tinker Bell!" said Peter excitedly, "The fairy language sounds like bells ringing!"
"The bells sound is coming from my drawers," said Wendy.
"You're right!" cried Peter. "Perhaps I closed Tinker Bell inside the drawer when I was looking for my shadow!"
Peter opened the drawer, and Tinker Bell flew out. She began talking rapidly to Peter. Wendy could not understand the conversation, because it was in the fairy language, but she understood that Tinker Bell was Very angry.
"Don't worry about Tink," said Peter to Wendy, "I told her that she could become your fairy, because you're both girls, but she said that she still wants to be my fairy. "
Wendy and Peter sat back on the bed, and she asked him many questions about Neverland.
"Where do you live in Neverland?" she asked.
"With the lost boys," Peter said.
"Who are they?" asked Wendy.
"They're children who became lost as children. Many of them fell out of their baby marriages when their nurses weren't paying attention. If a baby is not found by its family in seven days, the fairies take it away to the Neverland. I'm their leader!"
"Oh, you all must have lots of fun!"
"Oh yes!" said Peter. Peter was planning his next move. "but we are all a little bit lonely because there are no girls in Neverland. Girls are always too clever to fall out of their baby carriages!"
"I like the way you talk about girls; l think it's lovely," said Wendy, "I want to tell you thank you by giving you a kiss. "
Wendy then leaned toward Peter and kissed his face. Then suddenly she screamed terribly.
"What's wrong, Wendy?" asked Peter.
"I felt some one pull my hair!"
"Oh, it must have been Tinker Bell. She can be really mean sometimes! She told me that she'll pull your hair every time you kiss me."
Part5 重点词汇
lean toward…
[释义]
倾向...
kiss one's face
[释义]
亲吻…脸颊
pull one's hair
[释义]
拉…头发
Part 6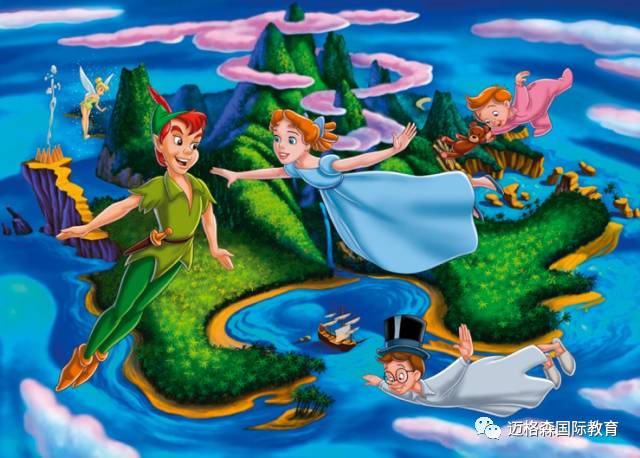 Part6▵
Peter then stood up and walked to the window. "I must go. "
"No! Don't go!" Wendy cried, "I'll miss you!"
Peter agreed to stay a while longer. He told her that he usually came to the nursery window to listen to the stories that Mrs. Darling told the children before they went to bed. Wendy was disappointed to hear this, she thought that Peter had come to see her.
"You see." said Peter, "I don't know any stories. and the lost boys don't know any either. "
"Stay here, Peter! I can tell you lots of stories. "
"l can't stay," he said, "but you can come and tell your stories to me and the boys in Neverland!" He pulled her toward the window and pointed out at the stars.
"I can't go with you, you know that!" she said. Wendy was happy that Peter had invited her. "My parents would be so sad if I left and, anyway. I can't fly like you!"
"I'll teach you to fly!"
"Really!" she said, very excited.
Peter, feeling that he might convince her to come with him back to Neverland, continued to talk.
"I'll teach you how to fly in the wind and talk to the stars. "
"Really?" she cried with excitement.
"And you can meet the mermaids! "
"I'd love to meet the mermaids!" Wendy said.
"And at night you could put us in bed and tell us stories!" Peter continued, "We don't have anybody to put us in bed at night. And you make us pockets and sew them on our clothes. None of our clothes have any pockets!"
Wendy knew that she would love to go to Neverland, so she asked, "Peter, could you also teach John and Michael how to fly?"
Peter wasn't interested in more boys, but he agreed just so that Wendy would come. She quickly awoke them and introduced them to Peter. Peter and Wendy told them about Neverland and the lost boys and flying. They all became very excited and loud.
Since Peter arrived. Nana had been outside barking. Then suddenly she stopped. All the children became silent; the way all children do when they hear the sounds of adults.
"Hide! Quickly!" cried John to Peter, "An adult is coming!"
Lisa, the cook, came into the nursery holding Nana on a short rope. Lisa was in a bad mood because the dog's loud barking had annoyed her as she worked in the kitchen. She finally decided to bring Nana to the nursery and see if the children were all sleeping.
When she came in the children were all in bed and they looked like they were sleeping, but Nana, smelling a new smell in the room, was still worried. She tried to quickly jump away from Lisa, but the strong woman would not let her go. She pulled the dog back into the yard and tied her back onto the tree.
After Lisa returned to the kitchen, Nana began pulling hard to become free of her chain. Finally, she broke it and began running fast to the party where Mr. and Mrs. Darling were.
She arrived at the neighbor's house quickly and jumped in through an open window. Mr. and Mrs. Darling saw her jump in and immediately knew that some thing was very wrong at the house. They left the party and ran with Nana back home without even saying a polite goodbye to their neighbors.
【Chapter 2 趣味问答】
What did Peter Pan say after Wendy's help?
What we can learn from that about Peter Pan's character?
知道答案的小朋友抓紧时间在后台留言吧,前三名小朋友小迈会赠送原版名著图书,以及10-12月名著阅读报名优惠!
在这一期的名著阅读小朋友们可以在家大声的跟着老师朗读出来,找找语感,与此同时跟着冰冰老师试着去理解名著文章,相信每一次的突破对大家来说都是好的积累。
"21天线上英文名著共读"是迈格森留学预备学习中心在2017年初推出的大型线上读书活动,截止目前,已经有800+的学员坚持每月读完一本英美经典名著啦!
阅读反馈▵
在2017年过去的几个月,在冰冰老师的带领下一起读完了将近20万词的名著文本,听完了将近3000mins(50h)的英文音频。
10月开始,我们将一起把听到的流畅说出来,把读到写进作文里!最后3个月升级版的"21天英文名著共读"火热报名啦!
名著阅读报名书目▵
适合学员:国内4-8年级
课程费用:单月199元,三月连报499元
现在报名,优惠多多,抓紧时间吧!
— END —
「迈格森国际教育」是新东方集团和美国麦格希集团联手打造的高端教育品牌,为3-18岁青少儿提供一站式全球公民教育。
迈格森致力GCE(全称Global Citizenship Education)即全球公民教育,从知识、能力、价值观进行全面培养。
教学方面,将ELA(English Language Arts)和EFL(English as Foreign Language)相结合,兼顾国际化和本土化,给予学生超前的学习效果!返回搜狐,查看更多
责任编辑: