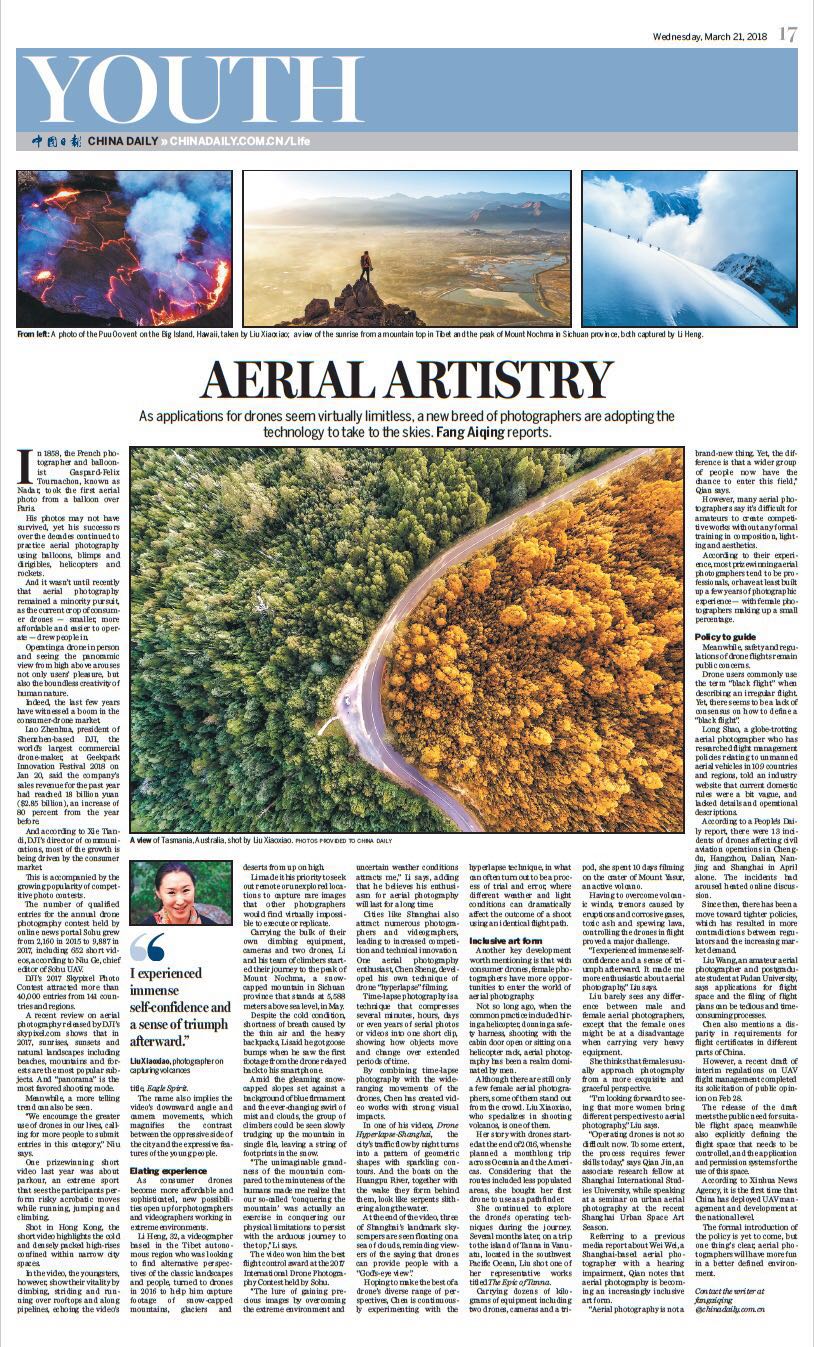 搜狐无人机21日讯 3月21日的ChinaDaily整版刊出了题为《Aerial artistry》的文章,报道关注以搜狐无人机主办的"瞰世界-中国无人机摄影大赛"为代表的航拍艺术活动,给人们带来的新鲜气息。文章从消费级无人机的普及、多样的航拍创作、安全飞行以及摄影师独特的航拍经历等方面,介绍了航拍,正作为一种新的富有创意的娱乐和创作方式,丰富我们的生活。
原文如下
By Fang Aiqing | China Daily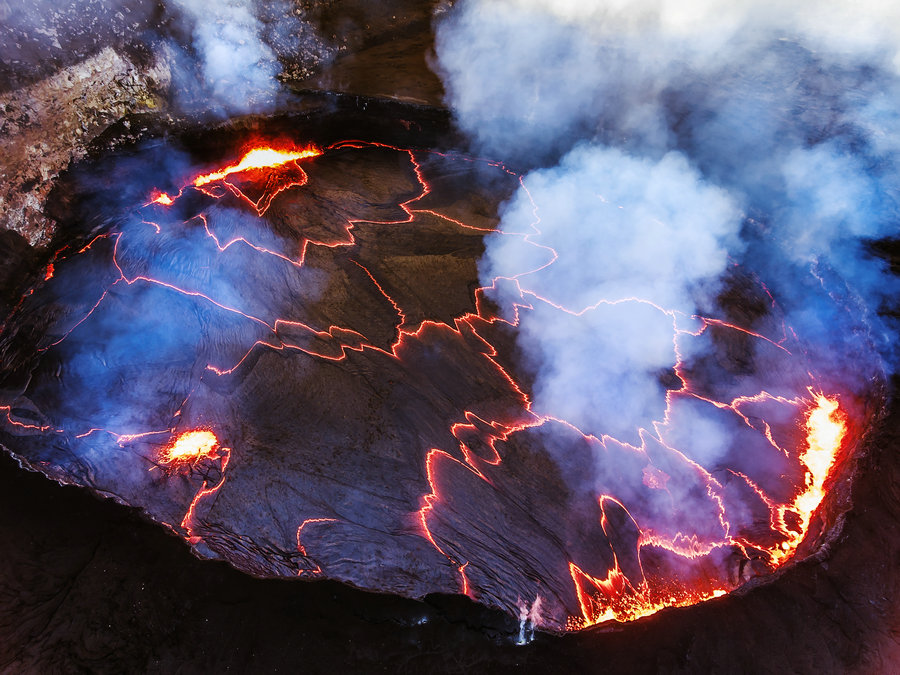 In 1858, the French photographer and balloonist Gaspard-Felix Tournachon, known as Nadar, took the first aerial photo from a balloon over Paris.
His photos may not have survived, yet his successors over the decades continued to practice aerial photography using balloons, blimps and dirigibles, helicopters and rockets.
And it wasn't until recently that aerial photography remained a minority pursuit, as the current crop of consumer drones-smaller, more affordable and easier to operate-drew people in.
Operating a drone in person and seeing the panoramic view from high above arouses not only users' pleasure, but also the boundless creativity of human nature.
Indeed, the last few years have witnessed a boom in the consumer-drone market.
Luo Zhenhua, president of Shenzhen-based DJI, the world's largest commercial drone-maker, at Geekpark Innovation Festival 2018 on Jan 20, said the company's sales revenue for the past year had reached 18 billion yuan ($2.85 billion), an increase of 80 percent from the year before.
And according to Xie Tiandi, DJI's director of communications, most of the growth is being driven by the consumer market.
This is accompanied by the growing popularity of competitive photo contests.
The number of qualified entries for the annual drone photography contest held by online news portal Sohu grew from 2,160 in 2015 to 9,887 in 2017, including 652 short videos, according to Niu Ge, chief editor of Sohu UAV.
Meanwhile, a more telling trend can also be seen.
"We encourage the greater use of drones in our lives, calling for more people to submit entries in this category," Niu says.
One prizewinning short video last year was about parkour, an extreme sport that sees the participants perform risky acrobatic moves while running, jumping and climbing.
Shot in Hong Kong, the short video highlights the cold and densely packed high-rises confined within narrow city spaces.
In the video, the youngsters, however, show their vitality by climbing, striding and running over rooftops and along pipelines, echoing the video's title, Eagle Spirit.
The name also implies the video's downward angle and camera movements, which magnifies the contrast between the oppressive side of the city and the expressive features of the young people.
Elating experience
As consumer drones become more affordable and sophisticated, new possibilities open up for photographers and videographers working in extreme environments.
Li Heng, 32, a videographer based in the Tibet autonomous region who was looking to find alternative perspectives of the classic landscapes and people, turned to drones in 2016 to help him capture footage of snow-capped mountains, glaciers and deserts from up on high.
Li made it his priority to seek out remote or unexplored locations to capture rare images that other photographers would find virtually impossible to execute or replicate.
Carrying the bulk of their own climbing equipment, cameras and two drones, Li and his team of climbers started their journey to the peak of Mount Nochma, a snowcapped mountain in Sichuan province that stands at 5,588 meters above sea level, in May.
Despite the cold condition, shortness of breath caused by the thin air and the heavy backpacks, Li said he got goose bumps when he saw the first footage from the drone relayed back to his smartphone.
Amid the gleaming snowcapped slopes set against a background of blue firmament and the ever-changing swirl of mist and clouds, the group of climbers could be seen slowly trudging up the mountain in single file, leaving a string of footprints in the snow.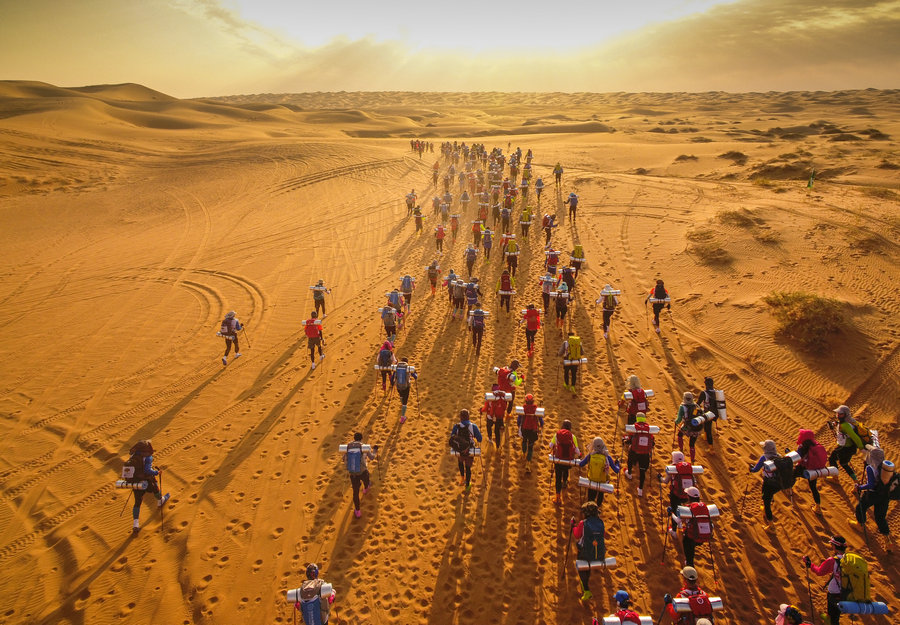 "The unimaginable grandness of the mountain compared to the minuteness of the humans made me realize that our so-called 'conquering the mountain' was actually an exercise in conquering our physical limitations to persist with the arduous journey to the top," Li says.
The video won him the best flight control award at the 2017 International Drone Photography Contest held by Sohu.
"The lure of gaining precious images by overcoming the extreme environment and uncertain weather conditions attracts me," Li says, adding that he believes his enthusiasm for aerial photography will last for a long time.
Cities like Shanghai also attract numerous photographers and videographers, leading to increased competition and technical innovation. One aerial photography enthusiast, Chen Sheng, developed his own technique of drone "hyperlapse" filming.
Time-lapse photography is a technique that compresses several minutes, hours, days or even years of serial photos or videos into one short clip, showing how objects move and change over extended periods of time.
By combining time-lapse photography with the wide-ranging movements of the drones, Chen has created video works with strong visual impacts.
In one of his videos, Drone Hyperlapse-Shanghai, the city's traffic flow by night turns into a pattern of geometric shapes with sparkling contours. And the boats on the Huangpu River, together with the wake they form behind them, look like serpents slithering along the water.
At the end of the video, three of Shanghai's landmark skyscrapers are seen floating on a sea of clouds, reminding viewers of the saying that drones can provide people with a "God's-eye view".
Hoping to make the best of a drone's diverse range of perspectives, Chen is continuously experimenting with the hyperlapse technique, in what can often turn out to be a process of trial and error, where different weather and light conditions can dramatically affect the outcome of a shoot using an identical flight path.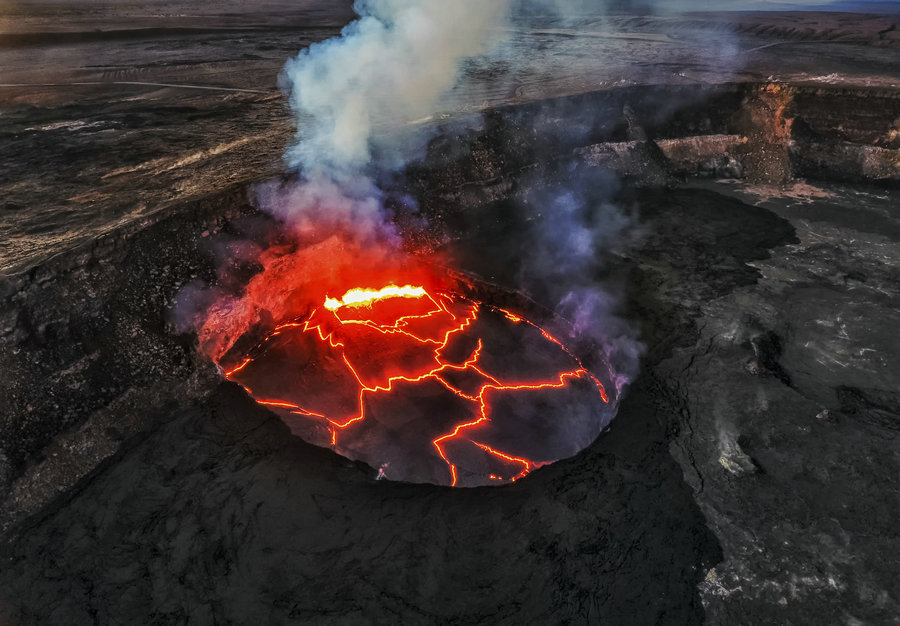 Inclusive art form
Another key development worth mentioning is that with consumer drones, female photographers have more opportunities to enter the world of aerial photography.
Not so long ago, when the common practice included hiring a helicopter, donning a safety harness, shooting with the cabin door open or sitting on a helicopter rack, aerial photography has been a realm dominated by men.
Although there are still only a few female aerial photographers, some of them stand out from the crowd. Liu Xiaoxiao, who specializes in shooting volcanos, is one of them.
Her story with drones started at the end of 2016, when she planned a monthlong trip across Oceania and the Americas. Considering that the routes included less populated areas, she bought her first drone to use as a pathfinder.
She continued to explore the drone's operating techniques during the journey. Several months later, on a trip to the island of Tanna in Vanuatu, located in the southwest Pacific Ocean, Liu shot one of her representative works titled The Epic of Tanna.
Carrying dozens of kilograms of equipment including two drones, cameras and a tripod, she spent 10 days filming on the crater of Mount Yasur, an active volcano.
Having to overcome volcanic winds, tremors caused by eruptions and corrosive gases, toxic ash and spewing lava, controlling the drones in flight proved a major challenge.
"I experienced immense self-confidence and a sense of triumph afterward. It made me more enthusiastic about aerial photography," Liu says.
Liu barely sees any difference between male and female aerial photographers, except that the female ones might be at a disadvantage when carrying very heavy equipment.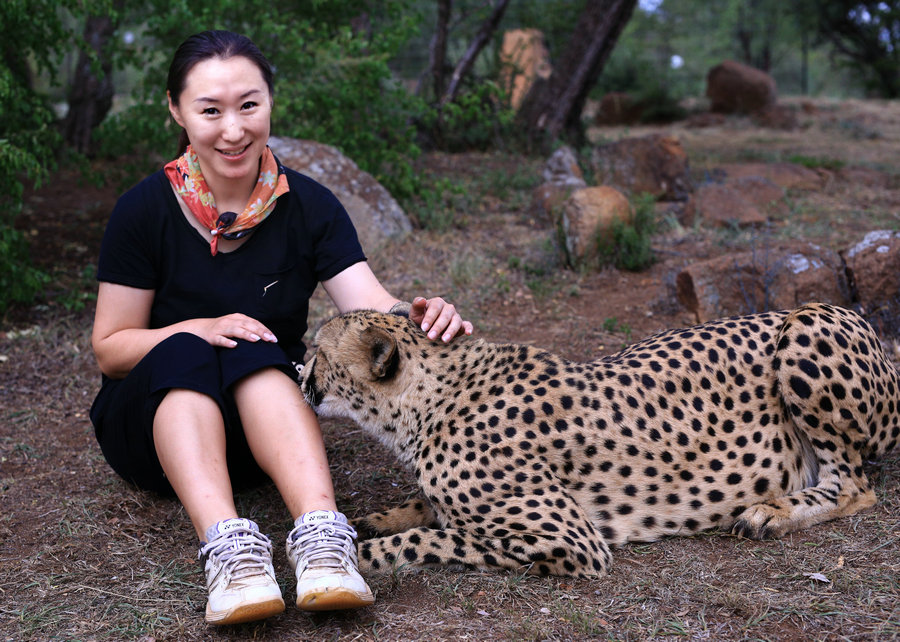 She thinks that females usually approach photography from a more exquisite and graceful perspective.
"I'm looking forward to seeing that more women bring different perspectives to aerial photography," Liu says.
"Operating drones is not so difficult now. To some extent, the process requires fewer skills today," says Qian Jin, an associate research fellow at Shanghai International Studies University, while speaking at a seminar on urban aerial photography at the recent Shanghai Urban Space Art Season.
Referring to a previous media report about Wei Wei, a Shanghai-based aerial photographer with a hearing impairment, Qian notes that aerial photography is becoming an increasingly inclusive art form.
"Aerial photography is not a brand-new thing. Yet, the difference is that a wider group of people now have the chance to enter this field," Qian says.
However, many aerial photographers say it's difficult for amateurs to create competitive works without any formal training in composition, lighting and aesthetics.
According to their experience, most prizewinning aerial photographers tend to be professionals, or have at least built up a few years of photographic experience-with female photographers making up a small percentage.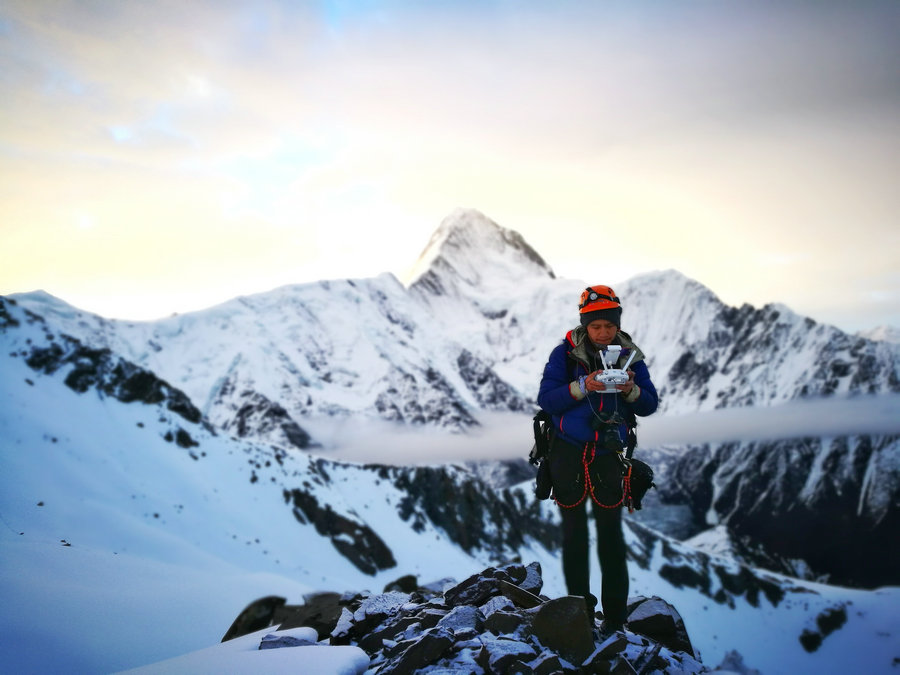 Policy to guide
Meanwhile, safety and regulations of drone flights remain public concerns.
Drone users commonly use the term "black flight" when describing an irregular flight. Yet, there seems to be a lack of consensus on how to define a "black flight".
Long Shao, a globe-trotting aerial photographer who has researched flight management policies relating to unmanned aerial vehicles in 109 countries and regions, told an industry website that current domestic rules were a bit vague, and lacked details and operational deions.
According to a People's Daily report, there were 13 incidents of drones affecting civil aviation operations in Chengdu, Hangzhou, Dalian, Nanjing and Shanghai in April alone. The incidents had aroused heated online discussion.
Since then, there has been a move toward tighter policies, which has resulted in more contradictions between regulators and the increasing market demand.
Liu Wang, an amateur aerial photographer and postgraduate student at Fudan University, says applications for flight space and the filing of flight plans can be tedious and time-consuming processes.
Chen also mentions a disparity in requirements for flight certificates in different parts of China.
However, a recent draft of interim regulations on UAV flight management completed its solicitation of public opinion on Feb 28.
The release of the draft meets the public need for suitable flight space, meanwhile also explicitly defining the flight space that needs to be controlled, and the application and permission systems for the use of this space.
According to Xinhua News Agency, it is the first time that China has deployed UAV management and development at the national level.
The formal introduction of the policy is yet to come, but one thing's clear, aerial photographers will have more fun in a better defined environment.返回搜狐,查看更多
责任编辑: