The McKinsey Center for Future Mobility (MCFM) is offically launched in China. MCFM is a think tank and advisor in the mobility industry that provides preeminent perspectives on the future of the industry, serves as a unique platform for exceptional thought leaders, and provides innovative client service, supported by a broad network of experts.
Our forward-thinking and integrated perspective – covering automotive, cities, freight, infrastructure, last-mile delivery, utilities – helps industry leaders and policymakers navigate an increasingly autonomous, connected, electrified, and shared mobility future.
We have four global hubs in Beijing, Detroit, Munich, and Silicon Valley. For more information, visit www.mckinsey.com/mcfm
(Click here for the CN version of the insights)
China is the world's largest market for vehicles and mobility services today, thanks to a thriving mix of local players and multinational corporations. Growing at 16 percent a year between 2007 and 2017, the country increased its share of the global passenger vehicle market from 9 percent in 2007 to 30 percent share in 2017.
According to a new study published by McKinsey & Company, China will likely emerge as the world's largest market for autonomous vehicles, worth more than $500 billion in revenue from sales of new autonomous vehicles and mobility services by 2030.
10 major insights and trends shaping the development of China's autonomous vehicle (AV) market
Insight #1: AV technology, if and when it works, will bring a lot of economic and consumer benefits.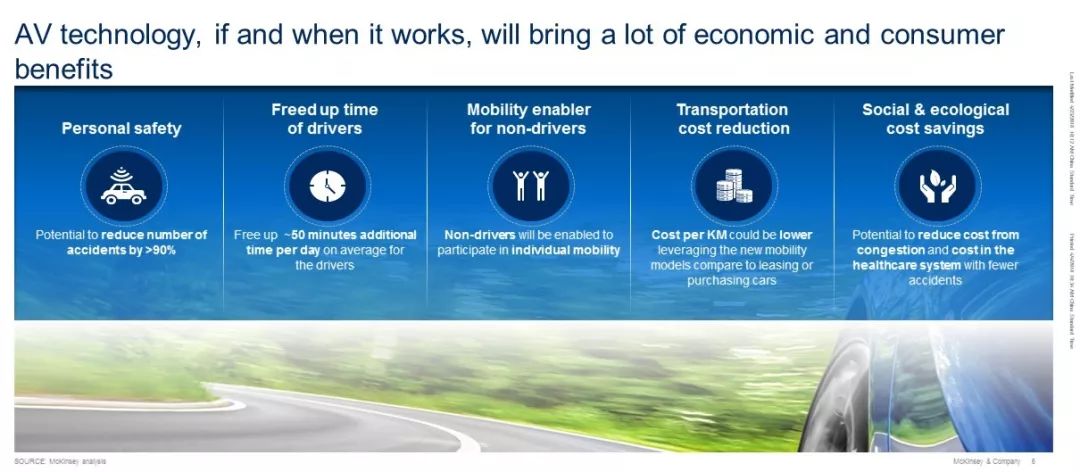 Insight #2: If and when AV happens in China, it will be huge
Insight #3: As cars go digital, cost reductions will drive AV adoption.
McKinsey predicts that 2025-2027 will represent the AV inflection point. This is when, based on estimated cost curves of the underlying technologies, autonomous vehicles will reach economic parity with human-driven transport. In other words, the total cost per kilometer of an autonomous vehicle will roughly match that of a traditional car with driver. After this inflection point, demand for autonomous vehicles should rise steadily.
Insight #4: AV adoption and mobility services will grow in tandem.
China is already adopting mobility-as-a-service at a rapid rate. Cars sold for use by mobility services now represent about 10 percent of China's total car sales. However, private travel still dominates. Today, 90 percent of PKMT is generated by private passenger vehicles, with the remainder delivered by mobility service providers via taxi services and ridesharing.
By 2030, McKinsey projects mobility service providers that deploy autonomous vehicle fleets will generate 11 percent of all PKMT, while privately-owned autonomous vehicles will deliver a modest 2 percent. And by 2040, according to McKinsey's estimates, as much as 55 percent of PKMT will be generated by mobility service providers, while just 11 percent will be generated by privately-owned AVs.
Insight #5: Chinese consumers have expressed a big interest in AV.
Chinese consumers show a strong preference toward fully autonomous vehicles. According to a recent McKinsey survey, 49 percent of Chinese consumers believe that fully autonomous driving is "critical," while another 49 percent of Chinese consumers believe it's "nice to have." This finding contrasts sharply with the 16 percent of consumers in Germany and the US who say that fully autonomous driving is "critical," and the 53 percent in each market that say it's "nice to have."
For their next car, Chinese consumers show a willingness to pay as much as US$4,600 as a premium for purchasing an AV, compared with just $3,900 and $2,900 in the US and Germany, respectively.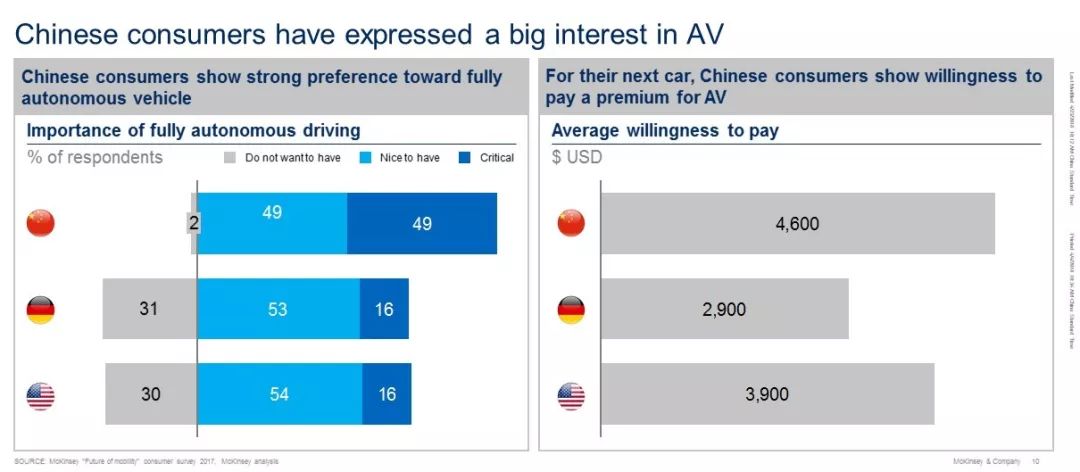 Insight #6: We have a lot of work to do to make AV a reality.
The high costs and financial unattractiveness of AVs is one of the biggest barriers holding back the development of this new technology. In McKinsey's survey of mobility experts, conducted as part of their research into this topic, only 27 percent of respondents believe the cost issue will be resolved by 2025, while another 37 percent believe it will only be resolved between 2025 and 2030. Another 20 percent of respondents expect the cost issue to be resolved sometime between 2030 and 2034, while another 17 percent think it won't be resolved until after 2035.
Reliability and safety is another major barrier to the adoption of AV technology. Only 30 percent of respondents said this issue will be resolved as early as 2025, while another 33 percent said it will be resolved between 2025 and 2029. Thirty-six percent of respondents said this issue won't be resolved until sometime after 2030.
Insight #7: The rules of the game will change with AV
Until now, the development of traditional automotive components, as well as the design and branding of automobiles, has been the focus of automakers. In a future where AVs dominate, however, a whole host of new technologies and skills will become critical. According to our survey of mobility experts, they believe the top three capabilities that will be essential to the future AV value chain include the development of AV software, the manufacture of AV hardware, and AV system integration.
Insight #8: Customers will change with AV.
The auto market in China is dominated by the business to consumer (B2C) segment, with 89 percent of sales made directly to consumers, and only 11 percent of sales to B2B fleet operators. AVs will change this, however. By 2030, McKinsey predicts, sales of traditional, non-AV vehicles to fleet operators will rise to 23 percent, while sales of AVs to fleet operators will rise to 16 percent.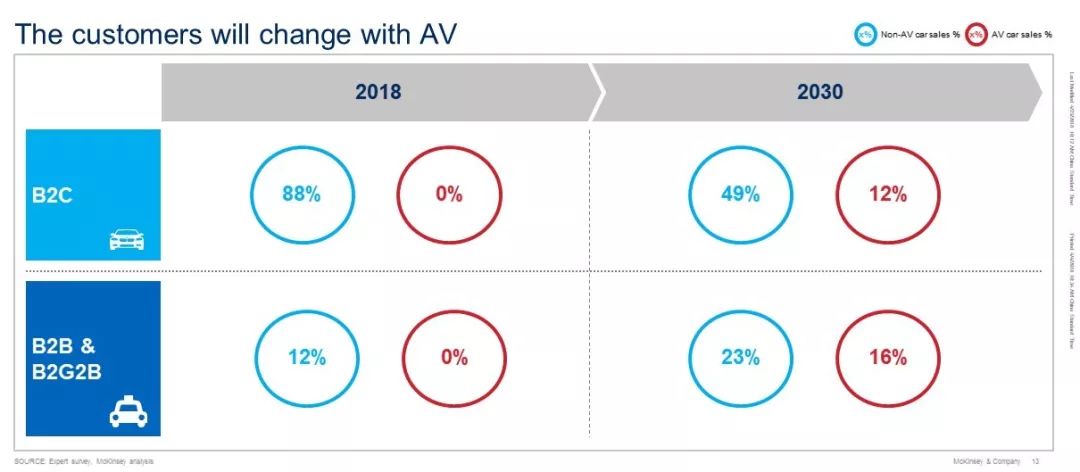 Insight #9: AV in China is a little bit more complex than rest of world…but generally requires the same technology.
While it may take an additional 2-3 years for software algorithms to be adapted to China's traffic environment, the underlying technology that will be deployed in AVs in China is largely the same as anywhere else in the world. For example, the technologies comprising sensors, the computing platform, motion planning and control, and object analysis, will likely continue to be dominated by global tech players. Some technologies that are more tied to local requirements such as the data cloud, mapping and location-based services, and connectivity, will require either a fully localized solution, or a hybrid one that combines local and global technologies.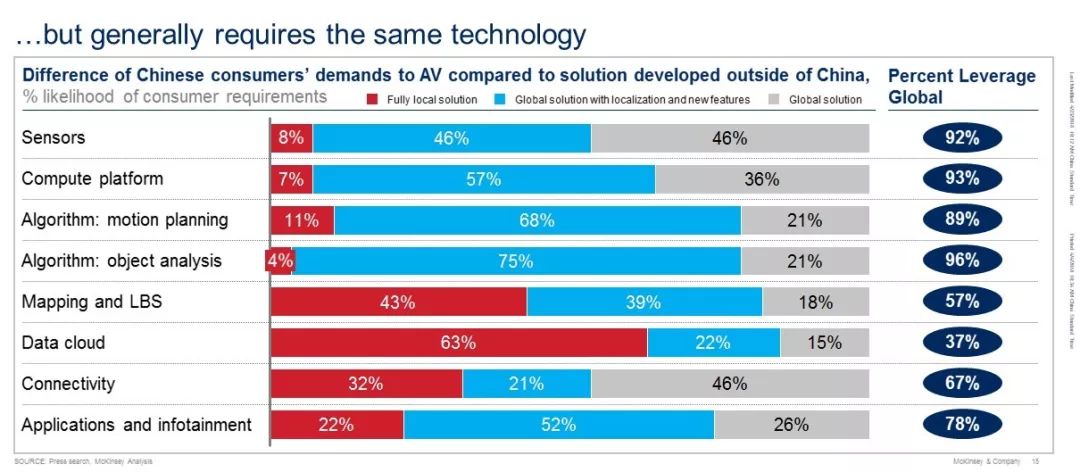 Insight #10: There is a lot of capital, excitement and hype around AV in China (and a lot of startups).
Numerous companies in China are developing the core elements of the AV tech stack, including Lidar, cameras, processors, software, and maps/location-based services. Between 2012 and 2017, US$7 billion of venture funding poured into Chinese AV technology companies, an amount comparable to what was invested in startups in the US during the same period. At $72 million, the average deal size was twice that of the deal size in the US.
Ting Wu
Partner, co-author of the report
" Current indicators suggest China is especially suited for widespread adoption of autonomous vehicles. Compared with consumers in other countries, Chinese consumers are considering purchasing autonomous vehicles, especially in the premium segment. In fact, compared with consumers elsewhere, Chinese car buyers aggressively seek autonomous driving features. "
.
Chris Thomas
Partner, co-author of the report
" For automakers, high-tech companies, and mobility services providers competing in China, the autonomous vehicle phenomenon may seem a decade or two away, but deferring positioning strategies can rob players of both influence and degrees of freedom. Deciding where to play; developing a road map to access the tech stack; deciding the right alliance and ecosystem strategy; and developing the strategic agility to update their approach as new data comes in about the market, are all essential moves companies need to make now, not later. "
.
Arthur Wang
Partner, co-author of the report
" We believe China will settle for an equilibrium between local and multinational players in the development of autonomous vehicles. While local players will become more competitive, multinationals will continue to play a substantial role in the market, since consumers will still seek cars made by global automakers. "
(Click here for the CN version of the insights)返回搜狐,查看更多
责任编辑: