Chinese car sharing platform Pand Auto teamed up with Baidu to begin a one-month pilot of autonomous valet parking in Chongqing today. We take a look back at how it began in Sunnyvale more than four months ago.
SUNNYVALE, California – What do you get when you combine ZF, the global leader in driveline and chassis technology as well as active and passive safety technology, Baidu, one of China's largest internet giants and a key enabler of autonomous driving, and Pand Auto, one of China's rising car sharing platforms?
You get autonomous valet parking, a nice little feature that could solve one of the pain points of car sharing today: having a car find you instead of you looking for a car.
The feature, which can drive a vehicle to a parking space and back without driver input, will be rolled out in March on a pilot basis in a test fleet in Chongqing, where Pand Auto is headquartered. Users will be able to perform the feature within Pand Auto's own smartphone app to summon a vehicle and return it to a parking space.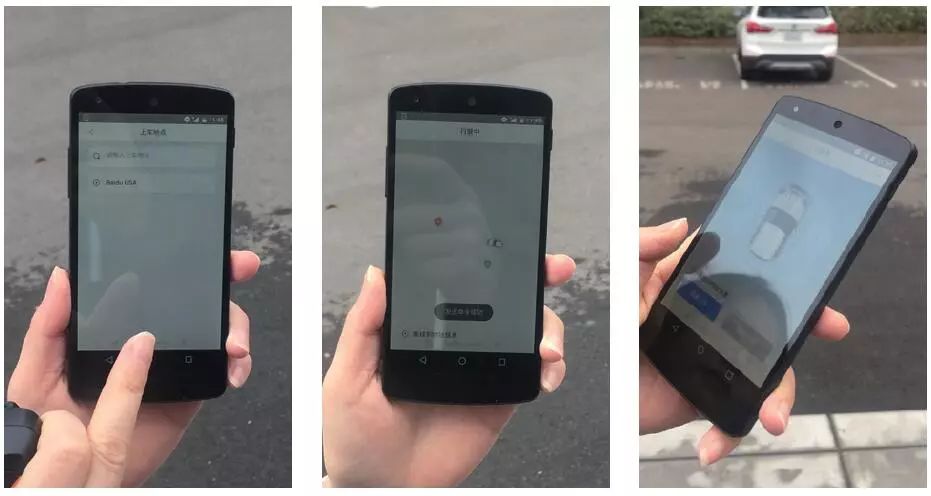 The partners demonstrated the feature on January 5 ahead of CES 2018 in a parking lot outside Baidu's Silicon Valley Research and Development Center in Sunnyvale, California, on two Lifan 330 EVs equipped with ZF's first generation ProAI control box, or "supercomputer" as it's called, that does the thinking for the driver. The Lifan 330 EVs, which are the primary models used on Pand Auto's car sharing fleets, were shipped over from China for the demonstration.
The ProAI processes data from the vehicle's environmental sensors and from car-to-x communication. It can then send the relevant signals to the actuators such as steering and braking systems. The Lifan 330EVs are each equipped with a front and rear mono-camera and ultrasonic sensor to achieve the valet parking function. No LiDARs, Radar or GPS are used, which means that the function will only be available above ground and not yet available in underground parking.
This is the first product resulting from the strategic cooperation between ZF and Baidu using the ProAI, a supercomputer with artificial intelligence capabilities jointly developed by ZF and NVIDIA.
In September 2017, ZF and Baidu signed a strategic cooperation to advance autonomous driving technology for the Chinese market. Just four months after the agreement, the first application has been developed using ProAI supercomputer for autonomous driving.
"ZF ProAI is ready for production. It is the result of our cooperation with NVIDIA, which we announced exactly one year ago at CES 2017. In our current project with Baidu, this supercomputer once again shows how we are accelerating autonomous driving and also makes it simpler for new players in the industry to demonstrate mobility innovations," said Torsten Gollewski, head of Advanced Engineering at ZF.
"ZF's supercomputer is ideal for our autonomous driving applications, as it can process a huge amount of data such as high-definition digital maps in real time. In addition, it combines with artificial intelligence, deep-learning capabilities and meets all the current automotive standards," said Li Zhenyu, vice president and general manager of Baidu's Intelligent Driving Group.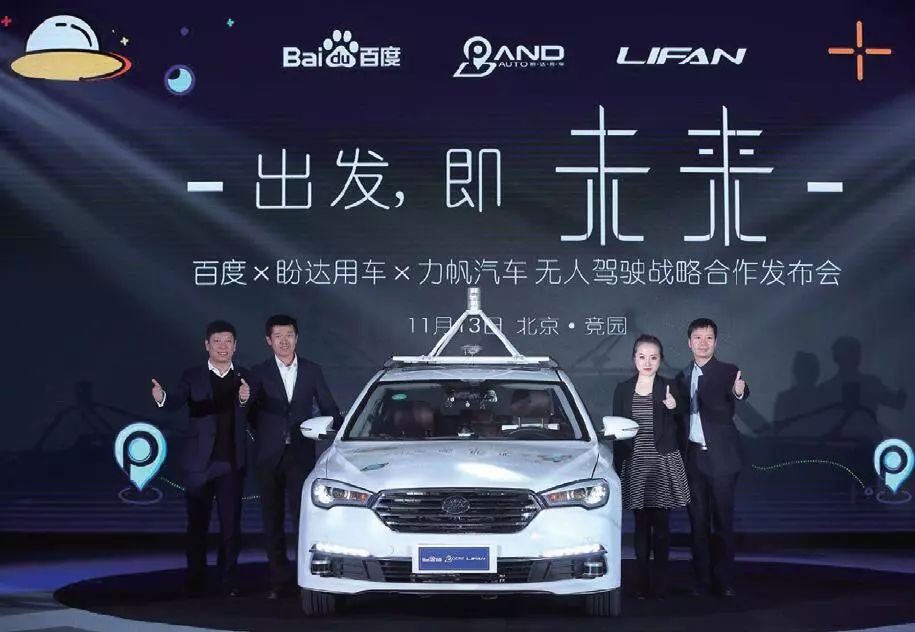 The new valet parking system directly addresses the needs of vehicle manufacturers as well as mobility service providers. Primarily, its goal is to significantly reduce the operating costs for car-sharing providers, while at the same time improving processes and convenience for customers and vehicle users.
Baidu and Pand Auto signed a separate strategic cooperation agreement in November 2017 where the two would work together to provide safer and more efficient shared mobility.
Dr. Gao Yu, founder and CEO of Pand Auto, told CBU/CAR that like Baidu, Pand Auto is very open to new technologies and had been in discussions with Baidu ever since it launched its Apollo autonomous driving open platform in July 2017. Autonomous driving, according to Dr. Gao, solves another pain point for the car-sharing platform: high operational and maintenance cost.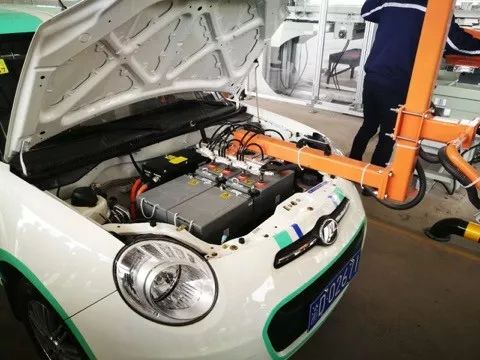 "The most difficult part of a sharing platform is the cost of operating and maintain the vehicles," said Dr. Gao. "The more vehicles we have, the higher the cost, and a lot of it are human labor."
She said that Pand Auto's goal is to put autonomous valet parking feature into operation first and then realize platooning of vehicles for maintenance. The key is to reduce the amount of human labor needed.
"Technologies are becoming cheaper, but human cost is increasing. There must be a breakeven point in between," said Dr. Gao. The pilot will run in pre-defined areas in Chongqing and invite select customers to test the feature first, according to Dr. Gao.
Pand Auto currently has more than 2 million users and is available in seven major cities in China with a fleet of more than 10,000 vehicles.
To get more information, please click "read more 阅读原文" to subscribe.
ZF and Baidu announce new cooperation on autonomous driving
The above article appeared in the February 2018 (Vol. 13, No. 2) issue of China Automotive Review (CAR), our monthly publication in English exclusively focused on the Chinese auto industry.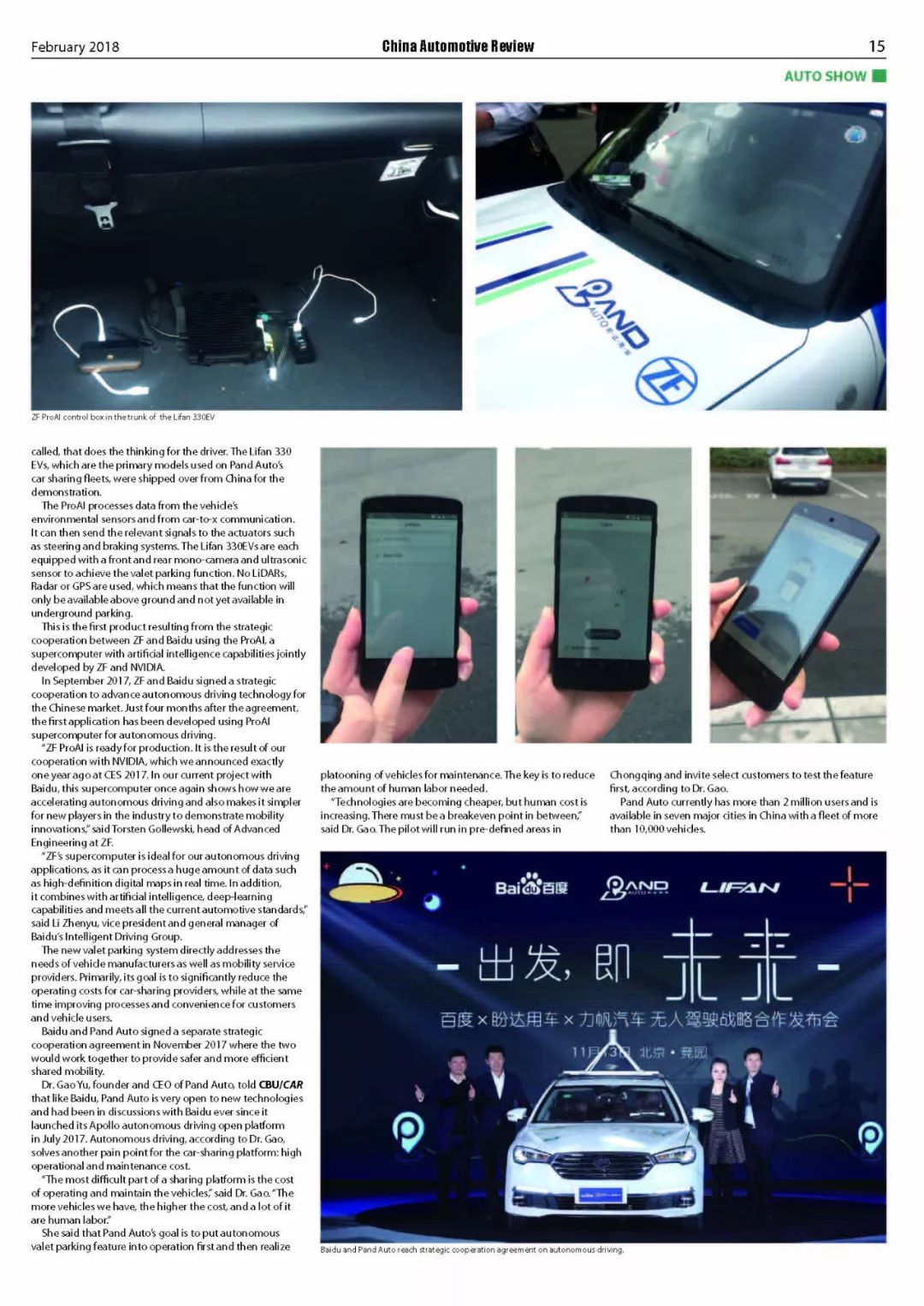 ©本刊所有图片、文字及版式版权均为【中国汽车要闻】(China Business Update)所有,未经授权许可,不得复制或用作其它商业用途,其他网站及平面媒体如需转载,须注明作者及出处。 返回搜狐,查看更多
责任编辑: