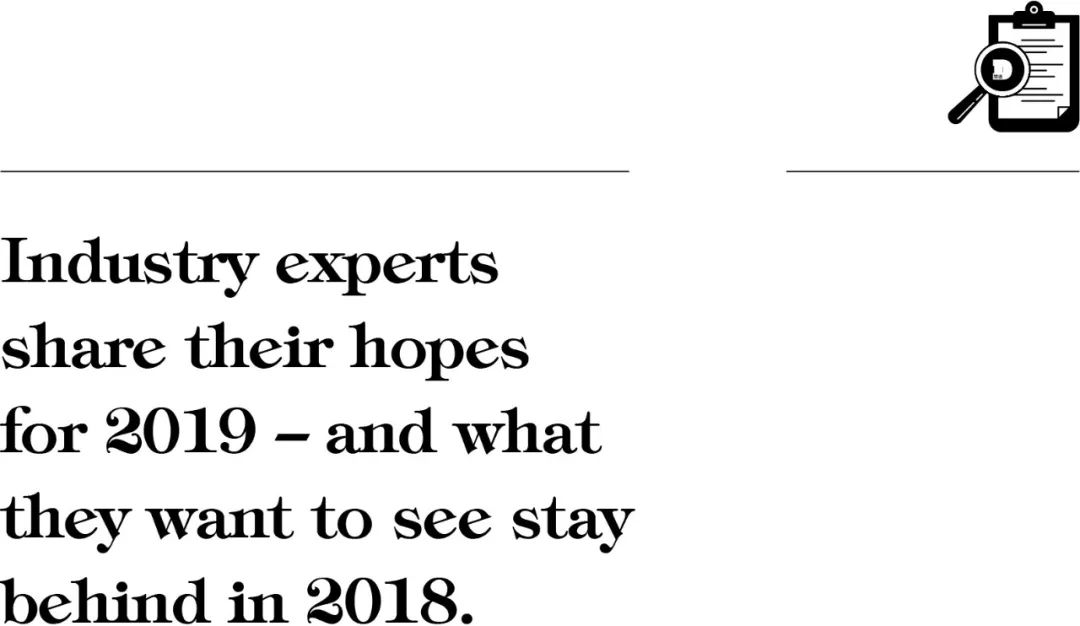 (Proof & Co)
"Let's leave behind never-ending shots for the guest bartender – I can't make a good drink if I am already drunk! Shots toward the end of the shift are most welcome."

(The Barback Collective, Mumbai)
"I am sometimes the culprit of this: times when, in an effort to increase the energy in an environment, I want to show my fellow bar peeps and consumers appreciation with numerous shots in a short span of time. Though this is often in the name of camaraderie and to welcome them into a bar or city during visits and guest shifts, the shots tend to be high proof spirits like bourbon, mezcal, etc. I greatly appreciate the gesture, and as a gentleman in training I am one never say no to a shot that's been offered as a mark of respect… but, that said, in the coming year I would rather express our love with low abv shots, which may or may not be better for the system but certainly go down easier."

(Campari Group, Asia)
"Personally, I would love to cut down on drinking shots."
(East Imperial China brand ambassador)
"I want to leave behind hangovers! Also, taking pride in drinking too much, not being concerned for one's health, and the lack of attention toward environmental protection. We need more people paying attention to industry exchanges to make the whole industry better, and then more people will join and value the environment."

(Peddlers Gin, China)
"I would love to see the industry leave behind the use of plastic straws and start taking more care or recycling and reusing what we can – sustainable innovation from the industry in China."

(Hope & Sesame, Guangzhou)
"There are basic things that everyone should leave behind – using small ice to shake drinks, plastics, leaking water taps, wasted fruit and wasted ingredients in general. But what I want is to see more craft spirits made in China and more bartenders joining masterclasses – especially when they're done by passionate and talented people. But that also means these events need to be more meaningful, as it has to be win-win for the brands and the bar teams."
(IB HQ, Singapore)
"I want to see increased work-personal life balance, healthier lifestyles and conscious bar purchasing to reduce waste."
(Proof & Co)
"We need more bars looking into sustainability programs and more brands involved in community building – and not just in Beijing & Shanghai – and more collaborations between brands. I'd also like see people to respect and understand the classics, but not be afraid to tap into new, unknown territory. Also, stop posting irresponsible information on WeChat – education starts from the basics, so people should stop passing the wrong information to young bartenders. Drink smart, learn well, stay healthy, be happy."
(Campari Group, Asia)
"I want to leave behind negative vibes – every year and every day, I hope to leave them behind and I look forward to what's coming. And did I mentioned fitness and wellness again? I hope the industry can gather more often for community work or events which get us mentally and physically better – even a simple monthly community event to get us together."
(Proof & Co)
"I hope we continue to see more support and see the community come together when it comes to equality, sustainability and health."
(SEA brand ambassador for Monkey Shoulder)
"A few things that we have already begun to ditch are single use plastics and straws, which, when I think back to my days as a full time bartender, looking down at the end of the night into a sink packed with black plastic straws that I had used for quality control checks, I shiver at the thought of what I and many others must have been doing to the environment."
(The Union Trading Company, Shanghai)
"How many bars in China have you seen that have a 200k bottle of whisky, or the whole collection of Chichibu, but the staff are undertrained and overworked and Jack Daniels is listed under American bourbon? I hope to see more well trained staff, a higher level of professionalism and for people to stop with the fucking 'my whisky bottle is more expensive than yours' dick-measuring contest. Plus, stop asking what the 'cocktail trends' are – trends are exactly that, trends. They come and go, but classics never die, good old fashioned hospitality never dies, hard work never dies – clarified drinks do."
(The Curator Coffee & Cocktails and OTO, Manila)
"Personally, though 'trends' are important, I'd love to see more bars go back to the basics and focus on hospitality. Service is usually good all around, but nothing beats the genuine warmth and care one exudes to his or her clientele – first timer or regular, industry or not. After all, we're bartenders – we tend to the bar and our guests."
(Spirits Box, China)
"I'd like to see a focus on hospitality and service – we are in the industry of hospitality. Making sure every guest feels welcome, engaging in what they're drinking and the overall atmosphere of your bar. Perfecting the basics goes such a long way – build a strong foundation of classics, techniques and service. Learn from different styles and mentors, and learn to adapt!"

(COA, Hong Kong)
"Stop over-garnishing cocktails for aesthetic reasons and focus on garnishes that can really help enhance the experience and flavour of a drink. I have recently seen a few top bars focusing more on flavour rather than aesthetics, but there are still drinks out there garnished heavily with ingredients that don't play an important role in the cocktail. It's probably because of the trend of 'Instagrammable cocktails', and a lot of new bar owners expecting too much from their bartenders, so they encourage them to make drinks which look like showpieces. Instagrammable cocktails are definitely effective for exposure, but bartenders are like chefs – our primary focus should be the entire package, with flavour being the primary goal."

(JungleBird, Kuala Lumpur)
"Things I would like to see more of in 2019… this is massively generic, but general customer service. I had a nose turned up at me for ordering a Mojito the other week. I like a Mojito. When made well, it's a good drink. Let's not pretend that because we're more informed that we're better than our guests."

(#FindTheLockerRoom and Backstage, Bangkok)
"I want people to stop going too far and get back to basics first – especially the newer generation bartenders. Many people try to push themselves by using fancy ingredients and cocktails with new methods, techniques, flavours, etc; especially on-trend things like re-distillation, fermentation and the like. But sometimes, when a cocktail comes out, it's just too much, and lacks balance. It's better to go back to basics, gaining a foundation of knowledge about what you're trying to do and knowing how to balance cocktails. I just want to say – please make sure you can make a good Martini and a Daiquiri before you go for a fancy cocktail."
(EQUIS, Beijing)
"I want to see more bartenders to follow (it's good for recognition, etc) – but when one reads some of these articles and there no minorities represented, that leaves a little bit of bad taste. Usually it is also the same few faces… things need be more original. We need to see more and more diversity at the upper echelons of our industry – it is getting better and better, but are we really doing enough?
"Also, social media is a blessing and also problematic – yes, we are the most connected generation that's ever been, but also the most disconnected. Industry personnel need to be aware of what content is going out, especially for young and upcoming talent, because I feel education, teaching and learning are getting lost in translation, and some of the hard work that goes on behind the scenes gets lost to the glamorous, edited product."
(Asia Today and Teens of Thailand, Bangkok)
"We need more contributions from industry veterans; the passing of knowledge to younger generations – less YouTube, more human connection."
(SEA Brand Ambassador for Monkey Shoulder)
"A mindset that we are beginning to leave behind is exclusion. We are no longer an exclusive society of industry professionals (heavily weighted towards males) that intimidate or berate those trying to follow in our footsteps. When I first started out in this industry, the way I was treated and the things that were said to me on a nightly basis as a barback or glassy weren't exactly words of encouragement. This tone of voice was incredibly commonplace, and back then saw many junior bartenders or barbacks lose interest in progressing or learning.
"My hopes for 2019 are also to see a wider range of dedicated education programs or outreach programs to not only encourage more people to join our industry, but also to slow the pace at which someone is expected to learn. More often than not, bars are in need of staff that can jump straight on to the bar – at the rate of growth we are currently experiencing across Asia, there will be more bars than there are bartenders. The brand ambassadors and companies like Proof & Company have fantastic programs like Jerry and soon to come Collectif that are able to help, however, I would love to see more bars and individuals get involved with education."
(Indulge Experimental Bistro, Taipei)
"I want to see health and happiness for everyone – these are quite important things. The world needs to come together more and share tales from their regions to contribute perfected industry things, and help more young talent find their beliefs in a right value-view from our industry, so they can keep passing that down till the end.
(Caffe Fernet, Singapore)
"I hope to see more young bartenders who are truly passionate about the industry and work hard for their goals and dreams, while still staying grounded and humble. And more exciting bars that will raise the bar of the industry we all love!"
In case you missed it:返回搜狐,查看更多
责任编辑: