我们有"iziRetail逸芮"、"iziRetail热点"两个公众号,内容有差异,欢迎长按文末二维码关注。本文原创,如需转载,敬请联络。
iziRetail逸芮搜罗并精选了5篇关于时尚零售、商业地产相关的英文报道,进行翻译、转载,为大家带来一手的海外资讯。同时,我们把英文原文附在文末,英文爱好者们也可浏览阅读。
Louis Vuitton X, a history of the Maison's creative exchanges on show in Beverly Hills
Louis Vuitton在比弗利山庄举办品牌特展
来源:LVMH
6月28日至9月15日,Louis Vuitton在其比佛利山庄旗舰店举办了Louis Vuitton X 展览,通过品牌创造性的设计、精湛工艺以及各种艺术家联名系列,展示了品牌的过去与未来、传统与现代。
展览空间共有两层,展出了180余件珍贵藏品、布景设计等,还特别展出了品牌第三代掌舵人Gaston Louis Vuitton的一些经典设计,比如二十世纪早期的特别定制硬箱、装饰艺术风格的香水瓶和橱窗展示等。
还展出了知名艺术家、设计师改造的特别版Monogram包袋,包括老佛爷(Karl Lagerfeld)、日本设计师川久保玲(Rei Kawakubo)、美国当代摄影师辛迪·雪曼(Cindy Sherman)、建筑大师弗兰克·盖里(Frank Gehry)等。
这次展览最大的亮点要数品牌与六位当代艺术大师联名设计的Arty Capucines系列,重新诠释了品牌经典的Capucines包袋。这六位艺术家分别是Sam Falls,Urs Fischer,Nicholas Hlobo,Alex Israel,Tschabalala Self和Jonas Wood。
此外还有与草间弥生(Yayoi Kusama)、Richard Prince、Zaha Hadid等艺术家合作推出的原创设计品和特别委托创作。这一特别的沉浸式展览,也让观众更好的了解品牌在工艺创新、艺术合作与交流的先锋潮流足迹。
Louis Vuitton X is a pioneering journey through the creative exchanges and artistic collaborations that have marked the history of Louis Vuitton. The exhibition takes place in the iconic 468 North Rodeo Drive building in Beverly Hills until September 15th.
Over 180 items from Louis Vuitton's archives and scenography are on display across two floors of the 468 North Rodeo Drive building in Beverly Hills for the Louis Vuitton X exhibition, which opened on June 28th.
The immersive exhibition invites visitors to discover Louis Vuitton's ongoing dialogue between past and future, heritage and modernity, savoir-faire and innovation.
The exhibition includes a remarkable collection of early twentieth-century special-order trunks, art deco perfume bottles and window displays commissioned and designed by founder Louis Vuitton's grandson, Gaston-Louis Vuitton.
There are also iconic Monogram bags reworked by renowned artists and designers including Karl Lagerfeld, Rei Kawakubo, Cindy Sherman and Frank Gehry.
The highlight of Louis Vuitton X is the premier of the Artycapucines collection, the Maison's latest collaboration with six prominent international artists – Sam Falls, Urs Fischer, Nicholas Hlobo, Alex Israel, Tschabalala Self and Jonas Wood – each of whom reinterpreted the iconic Louis Vuitton Capucines bag.
Also featured are original collaborations and commissions by major creators such as Yayoi Kusama, Richard Prince and Zaha Hadid.
Starbucks China launches world-first Starbucks Now store
星巴克全球首家"啡快"概念店在北京开业
来源:Inside Retail Hong Kong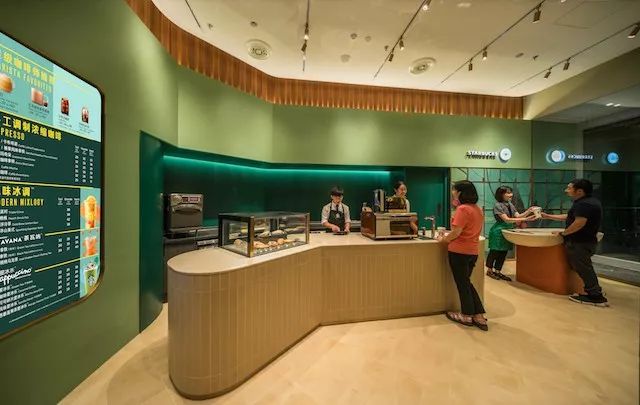 日前,星巴克中国北京金融街开设了全球首家"啡快"概念店,集合"手机下单、到店取货"、"专星送",及门店用餐服务,为消费者提供更加快速高效的外带、外卖服务体验。
新店的重点放在外卖、外带服务上,用餐区域相比其他店铺较小。消费在进店时,可以看到入口处设置的"星礼台",还有一位店员协助消费者自提餐品、在线下单等,品牌的手作咖啡饮品、轻食等都可以选择。
同样,外卖订单也放置在取货柜里,便于外送人员取件,提高了工作效率。通过"啡快"、"专星送"小程序的订单都会有专门的取货口令。
在客流高峰时段,周边门店的外卖订单由新店集中调度,不仅缓解了周边店铺咖啡师的压力,也减少门店消费者的等候时间。品牌计划在客流量较高的地区开设"啡快"概念店,包括经济、交通枢纽地区。
Starbucks China has opened its first Starbucks Now store – an express retail experience that integrates Starbucks physical and digital customer touch points.
Centered in Beijing's financial district, the Starbucks Now store is the company's first express-retail format location. The service combines the signature Starbucks cafe environment with mobile order and pay and Starbucks Delivers customer experiences.
Customers entering the store are greeted by a Starbucks barista at an elevated concierge counter to assist with ordering or order pickup.
They can choose from a menu of handcrafted beverage options tailored for the on-the-go customer along with an assortment of popular food items.
Limited seating is available for customers who choose to stay and relax with their favorite food and beverages in the store.
For delivery riders, a dedicated area for Starbucks Delivers orders enables fast pickup supported by baristas. Fulfilled Starbucks Now and Starbucks Delivers online orders will be placed in a secure in-wall system with a designated pickup portal associated with each order.
The store will also have the ability to serve as a centralised dispatch centre for delivery orders within a certain radius, so Starbucks baristas at neighbouring cafes can focus on delivering service to in-store customers at those locations.
During peak times, Starbucks Delivers beverage orders will be prepared by baristas from a central kitchen that is part of the Starbucks Now store.
The company plans to open new Starbucks Now stores across high-traffic areas including business and transportation hubs as well as to new cities in China.
Stella McCartney Teams Up With LVMH, in Plot Twist in Luxury Wars
奢侈集团之战剧情翻转,Stella McCartney转投LVMH怀抱
来源:New York Times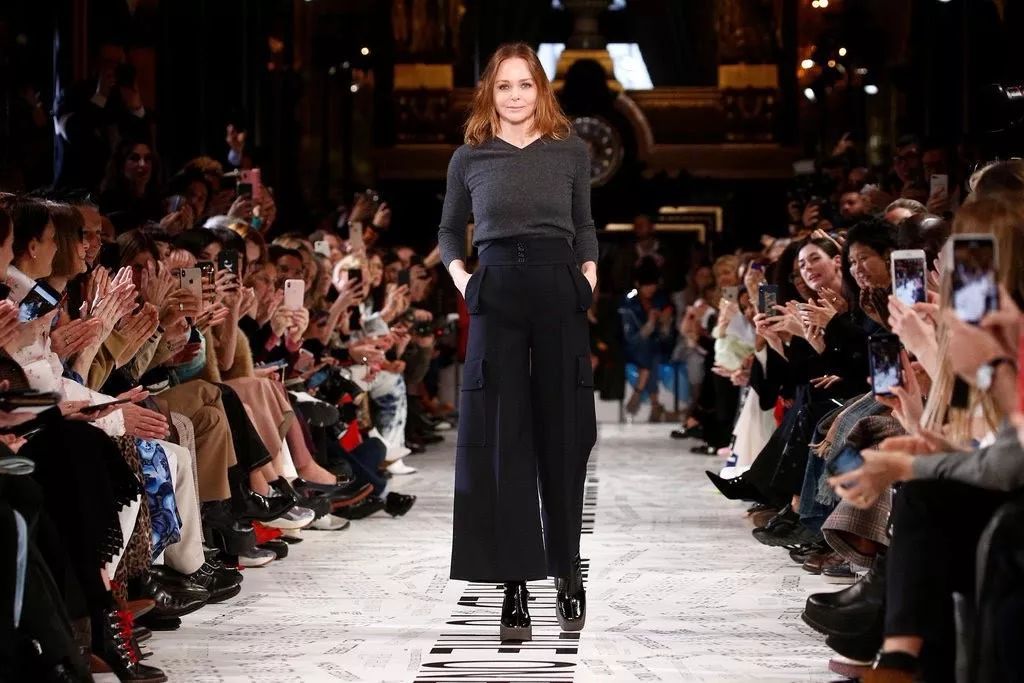 英国设计师Stella McCartney在离开Kering开云集团后,找到了新的合作伙伴——LVMH集团。
LVMH集团于周一公布了入股Stella McCartney的消息,与这个来自英国的时尚环保品牌上演了一场罗密欧与茱丽叶的戏码。2018年,Stella McCartney从开云集团购回了其同名品牌50%的股份,终止了长达17年的合作关系。
尽管此次合作的具体细节并为公布,但集团表示,Stella McCartney将继续担任品牌的创意总监,保留大部分股权;还将担任集团董事会的特别顾问,讨论可持续发展及时尚产业如何减少对环境的负面影响等问题。
Arnault先生认为,促成双方合作的关键在于Stella McCartney长期致力于可持续发展和道德问题,可以帮助集团的可持续发展部门更好的认识相关重要议题。
Stella McCartney的设计以简洁、酷炫著称,并且始终坚持以环保面料代替动物皮革,是首批具有社会意识的奢侈品牌之一,并且迅速成长为英国知名时尚品牌之一。设计师本人也是一位素食主义者。
随着越来越多的消费者开始注重环保、气候问题,这次合作也将为双方带来更多机遇。
LVMH集团董事长兼CEO Bernard Arnault目前排进了千亿美元富翁俱乐部,超过比尔·盖茨成为全球第二的富豪,其资产净值约为1076亿美元(约合7398.7亿人民币)。
The British designer finds a new partner after leaving her former French fashion group, Kering, last year.
In a move worthy of the rivalry between the Montagues and the Capulets, LVMH Moët Hennessy Louis Vuitton, the world's largest luxury group, said on Monday that it had entered into a new marriage with Stella McCartney, the British fashion house that was half-owned by its chief competitor, Kering, until last year.
The deal calls for Ms. McCartney, the house's founder, to continue in her role as the brand's creative director, and as the majority owner of the Stella McCartney business.
She will also become a special adviser to Bernard Arnault, LVMH's chairman, and to the LVMH board on the topic of sustainability, or how the fashion industry can reduce its famously negative impact on the environment.
Financial details of the partnership were not disclosed. The full scope of the agreement is to be disclosed in September.
Mr. Arnault said in a statement that Ms. McCartney's longtime commitment to sustainability and ethical issues had been "a decisive factor" in bringing the parties together.
He also cited the company's creation of its own sustainability department more than 25 years ago. "Stella will help us further increase awareness on these important topics," he said.
Ms. McCartney's very public veganism (she has always refused to work with leather) and outspoken adherence to organic beauty, along with her high public profile (daughter of Paul McCartney, close friend of Kate Moss, Gwyneth Paltrow and Liv Tyler) have combined to make her a prominent figure in high fashion eco-activism.
She will now take those credentials to LVMH. With millennial-age shoppers increasingly placing climate concerns among their top priorities, such an association is a meaningful asset.
Ms. McCartney, who is known for an easy, cool aesthetic — she once designed and wore "Rock Royalty" T-shirts for herself and her guests at the Met Gala — started her brand in 2001 as a joint venture with what is now Kering, whose other properties include Gucci and Alexander McQueen.
From the start, Stella McCartney was positioned as one of the first socially conscious luxury brands, and grew into one of British fashion's best-known names. In 2018, Ms. McCartney bought back Kering's 50 percent stake in the brand, establishing it, briefly, as an independent name.
SMCP launches Sandro on Farfetch
SMCP集团旗下Sandro品牌上线Farfetch
来源:Inside Retail Asia
由复星集团控股的SMCP集团,将在奢侈零售平台Farfetch上线旗下Sandro品牌。集团表示,Farfetch平台上每个月吸引了来自全球超过1300万的用户,这也将为Sandro提供更广泛、更优质客户群体。
Sandro首席执行官Isabelle Allouch表示,此次合作有助于Sandro在全球范围的数字扩张,进一步加强品牌高端市场定位,提高品牌知名度。
此次合作对SMCP集团来说也是数字战略的重要里程碑,丰富了数字销售渠道,覆盖全球超过190个国家,更好的将线上销售和线下体验结合起来。
Fashion group SMCP is to launch its Sandro brand on Farfetch.
The Chinese-controlled, French-based affordable luxury retailer says the 13 million-plus clients per month around the world that Farfetch attracts will be an ideal partner to enable Sandro to address a wider, premium customer base.
"We are delighted with this new partnership with one of the major digital players of the luxury sector," said Sandro CEO Isabelle Allouch.
"We are convinced that having our products on Farfetch will contribute to Sandro's digital expansion across the globe, positioning it as a high-end luxury brand and enhancing its worldwide visibility and awareness."
She said the partnership marks a key milestone in the global roll-out of SMCP's digital strategy, bringing together online and offline shopping.
"It perfectly complements the group's growing digital presence alongside the successful global deployment of our own websites, and further diversifies its digital sales channels, enabling the group to reach more than 190 countries across the world."
'Whimsical wonderland' – DFS unveils sixth annual 'First Class Beauty' campaign
DFS举办第六届"美妆节"
来源:The Moodie Davitt Report
与Diageo集团的Bailey草莓奶油利口酒合作推出主题装置
奢侈旅游零售商DFS集团将推出一年一度的"头等舱美妆节"活动,这也是集团持续时间最长、最受消费者喜欢的活动之一。
Sulwhasoo将于吴哥窟T广场店推出美妆展台
这次活动将于8月展开,共有25家DFS免税店及T广场店参与,为消费者打造了一个美妆产品的梦幻奇境,提供超过40个领先品牌的度假系列和产品体验。
从8月1日到31日,参与美妆节的DFS商店会为消费者提供一系列的活动,以"一站式美容目的地"为主题,为旅客的旅程增添更多惊喜和乐趣,活动安排也会在全球的DFS店中实时更新。
DFS Group today launched its sixth annual First Class Beauty campaign, one of the luxury travel retailer's longest-running and most successful consumer promotions.
A total of 25 DFS and T Galleria by DFS stores will be transformed through August into what DFS described as "a whimsical wonderland of beauty treats", featuring exclusive products and experiences from over 40 leading brands.
This year's edition of First Class Beauty is themed 'Your One-Stop Beauty Destination'. It offers a curated selection of brands across make-up, skincare and fragrance products grouped into three beauty moods – City Nights, Beach Getaway and Nature Escapes.
As with previous First Class Beauty campaigns, the campaign will play out in DFS stores worldwide through an ongoing localised calendar of innovative experiences.
From August 1 to 31, participating stores will host a series of activations to "highlight and enhance the enjoyment of discovery and surprise in every customer's journey".
▼
责任编辑: