"东方传奇"—Leah Poller & Lu Mei双个展"
Oriental Legend" - Leah Poller & Lu Mei
策展人:陈晓峰
Curator: Chen Xiaofeng
出品人:庞春慧
Producer: Pang Chunhui
开幕式酒会:2019/9/21 15:00-17:00O
pening Reception: 3:00-5:00PM September 21 2019
展览时间:2019/9/21—11/20
Exhibition Duration: Sep 21 2019 - Nov 20 2019
展览地点:北京市通州区宋庄尚堡艺术区C座208 慧空间
Address: Hui Space 208 Building C Shangpu Art district Songzhuang Tongzhou Beijing
支持媒体:艺术国际/雅昌网/今日头条/新浪收藏/艺术热搜/腾讯文化/搜狐文化/凤凰新闻/艺厘米Supporting Media: Art International / Artron / Today's Headlines / Sina Collection / Hot Art / Tencent Culture / Sohu Culture / Phoenix News / Yicm"东方传奇"
文/陈晓峰
这个展览题目取为"东方传奇",一是对于女艺术家Leah Poller在中国做展览而言,就是一个创造"东方传奇"的印迹过程。她作品中的床世界将是连接"东方传奇"的主要载体。床在东西方文化中传递出来的预示性的"透视"信号或通道,将是这个展览释放得最为精彩的一部分,需要我们去揣摩,观照,体悟。二是在西方游走了20多年的女艺术家吕美无论是生命经历,还是艺术创作形态都呈现了与众不同的"东方传奇",她在用充满激情的生命形态创造艺术上的"东方传奇",同时也让自己在文化归属上成为了"东方传奇"的一部分,这是极为有意味的文化自觉与精神回家之路的回应。
HusipaceGallery inaugurates the exhibition "Oriental Legend", featuring the work ofLeah Poller, sculptor and Lu Mei, painter. For Poller, her ongoing exhibitionhistory includes presenting her work in galleries and institutions in China andcan be considered as part of the process of creating her personal "orientallegend". Her subject of choice – the BED – when confronted with the East, juxtaposesthe two cultures into an "Oriental Legend", as her many visits to Chinamanifest convincingly into her work. Inboth Eastern and Western cultures, the concept of bed conveys a predictivesignal of penetration or pathway (canal), which offers the most exciting partof the exhibition, demanding our conjecture, examination and absorption.Lu Mei, an expatriate artist to the West for the past twenty years, presents us witha totally distinctive "Oriental legend" from both her life experience and herart. While creating this legend throughher emotional presence, she also transforms herself into this "oriental legend"by means of her cultural affiliation. This is a significant response to hercultural awareness and spiritual path home.
皇椅.国王与皇后之一Royal Chair. King & Queen.No1
纸上丙烯 墨
Ink & Acrylic on Paper
150 x 97cm
2017
吕美
皇椅.国王与皇后之三
Royal Chair. King & Queen.No3
纸上丙烯 墨
Ink & Acrylic on Paper
68 x 68cm
2019
吕美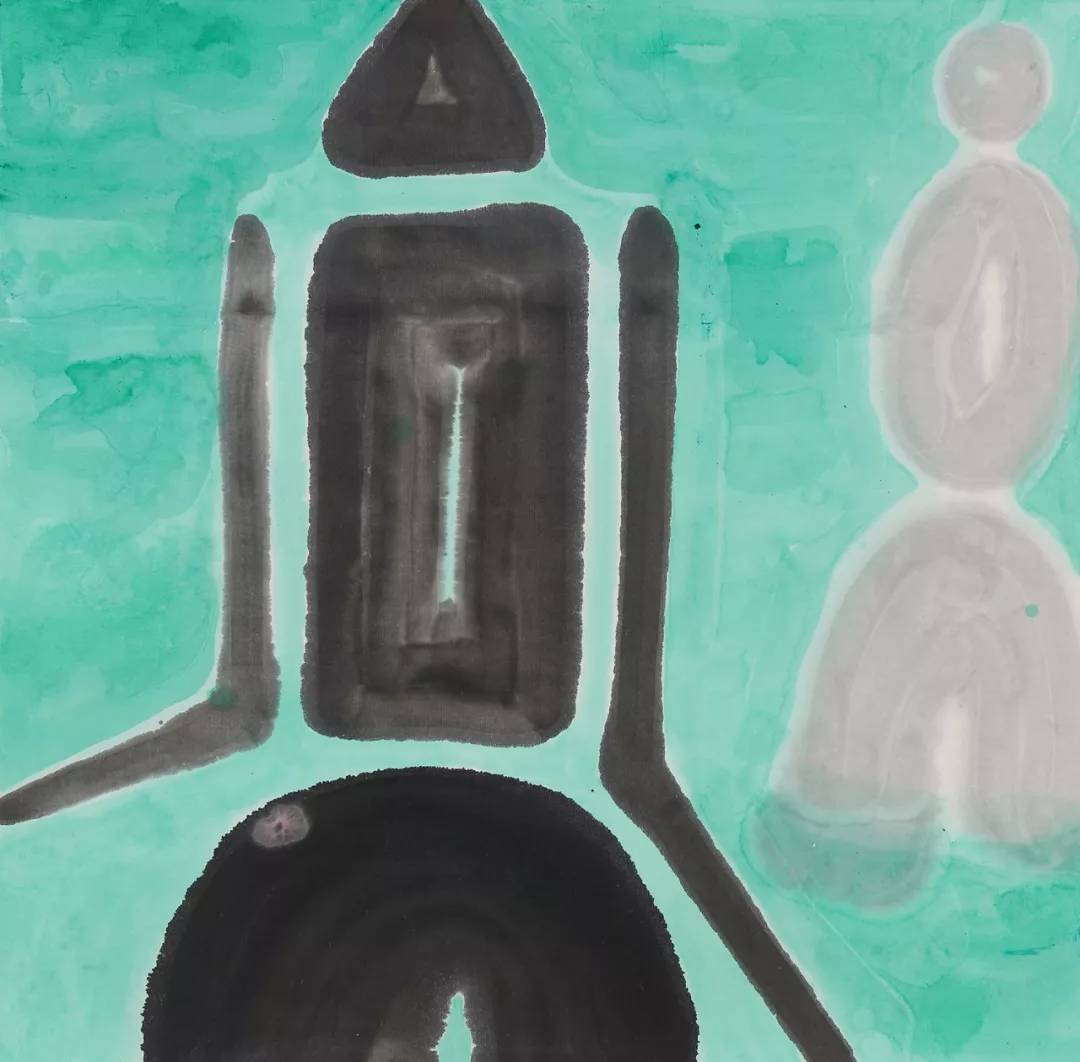 皇椅.国王与皇后之七Royal Chair. King & Queen.No7
纸上丙烯 墨
Ink & Acrylic on Paper
68 x 68cm
2019
吕美
来自美国的雕塑家Leah Poller更像是一个慎密追寻时间生命和情感的捕手,她创作对标的对象是生命成长的共同体之一——床。在这个隐蔽的生活线索中,隐喻,并放大着的是一个家庭,不同成员的生活和情感世界所共同制造或生产出来的悬念,冲突或多幕剧。在床的世界维度里,有时是充满疾风暴雨式的日常琐事,有时又是激荡生活背面的战场,还有更多的是多维度情感彼此探索的特定过程或种种仪式。生命的不同相遇,相处,生成,生长以及充满各种未知的变化中,床充当了一个彻底的发酵物,陌生客,同时又是特殊的见证客。在这个特殊的物理空间里,却赋予了时空厚重的穿透力,更是在床的另一个维系着生命时空通道里留下了深刻的痕迹。因此,在她的床的不同系列作品当中,我们相遇到的是每个可能的逝去,或者仅有的当下,还有充满各种可能未来的那个床上的"自我",以及与他(她)者的相遇,相连。在床的世界里,我们有可能都面目全非,抑或充满着生命或情感的各种动感形态,以及时间抽离出来的生活形状等等。
Poller,a French trained sculptor from the United States, is like a zealous hunter oftime, life and passion. She has incorporated the bed as the cardinal points ofher compass in establishing the coordinates of life and its many manifestationsof transformation. In a subtle, covert manner, she teases us with clues as ametaphor and a family magnified, where each member contributes to creating orproducing suspenseful conflicts or full-length drama through their lifeexperiences and emotional worlds. In the world of beds, thunderstorms of dailytrifles and battles of passionate life take turns on the stage of life. Quiteoften, they follow certain procedures or rituals to express the multidimensionalemotions trying to explore each other. Within these different encounters and interactions,growth and the undiscernible changes oflife offer up the bed as a pure, fertile yeast, the ubiquitous stranger, andsimultaneously, a special witness to life's transitions. In this unusual physicalspace, Poller's beds are endowed with a powerful perpetrating force and leaveprofound traces in the other time-space tunnel of life. Consequently, in Poller'sbed series, we may come upon every possible declension, or only the present,the "self" in bed, confronting all possibilities as well as the encounters andconnections with him/her. In the world of beds, we are probably allunrecognizable, posturing as different dynamic and emotional beings and livingforms existing outside of time, etc.
SOFT BED
柔软的床
Bronze
青铜
17.5 " x 13″ x 2.5″
Leah Poller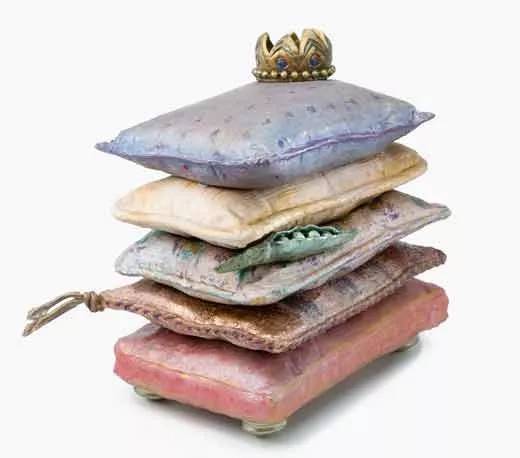 PEA IN THE BED
床上的豌豆
Homage to the Princess
向公主致敬
Bronze
青铜
8″ x 6″ x 9″
Leah Poller
HONEYMOON BED
蜜月之床
Bronze
青铜
28″ x 28″ x 23″
Leah Poller
BATEAU LIT
巴托照明
Bronze
青铜
10″ x 8.5″ x 7″
Leah Poller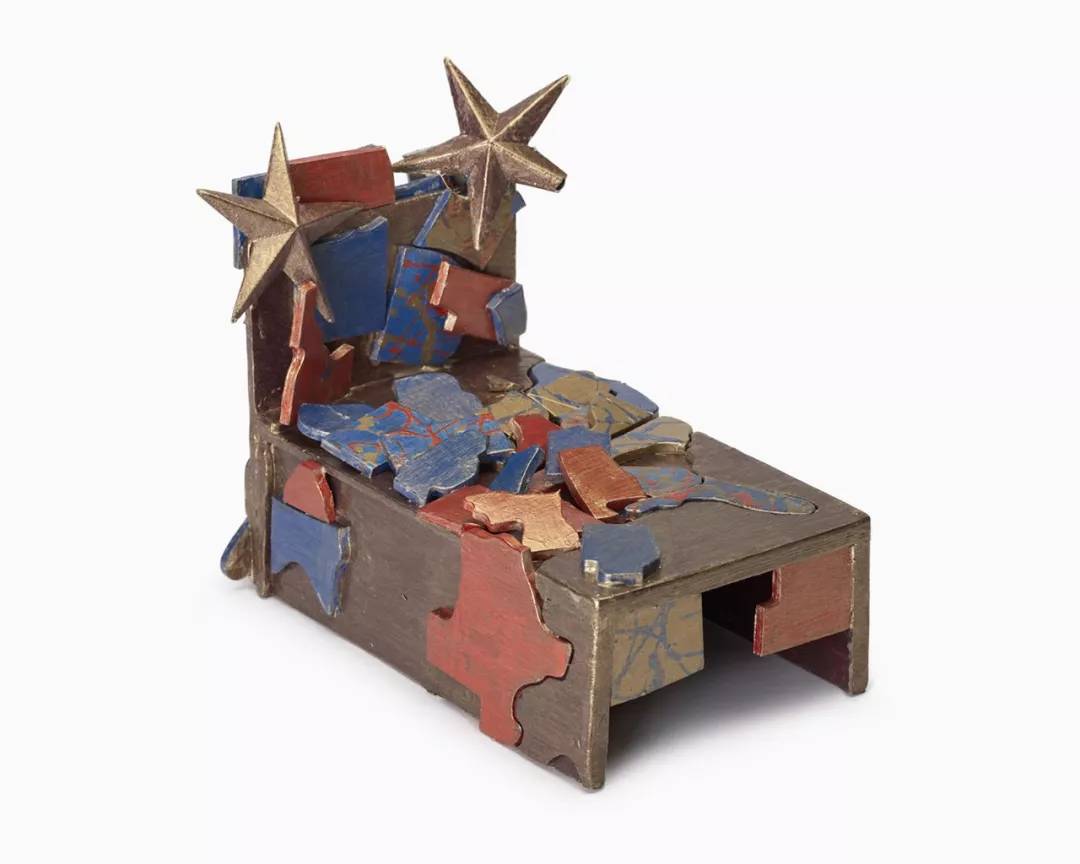 BED OF STATE
国家之床Bronze
青铜
10.5" X 6.25" X 9"
Leah Poller
HIDE-A-BED
躲在床上
Bronze
青铜
8″ x 8″ x 6″
Leah Poller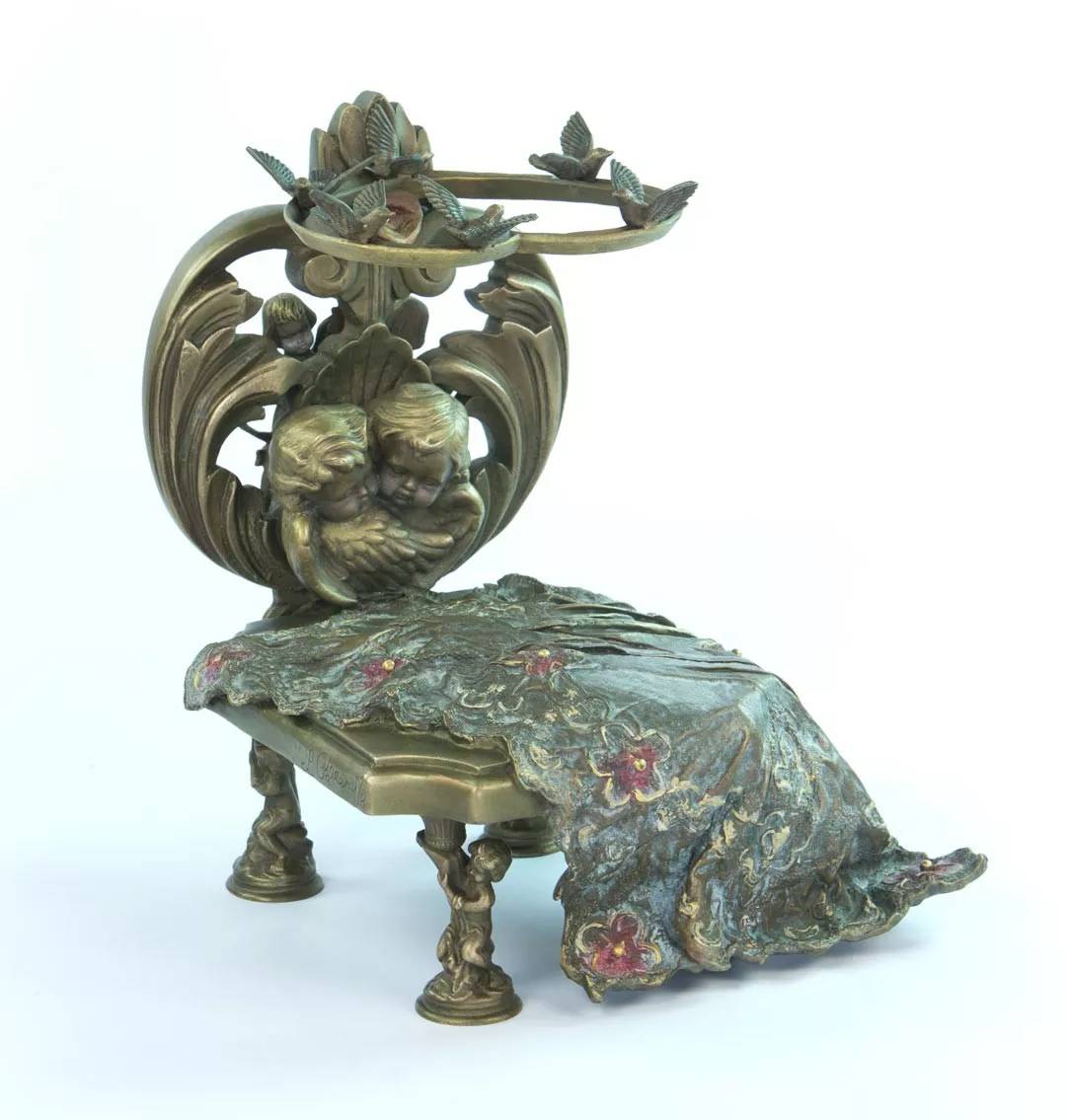 PoLIT d'ANGE
极乐世界
Bronze
青铜
8″ x 6″ x 9″
Leah Poller
DAY BED
白日床
Homage to Madame Recamier
向Madame Recamier致敬
Bronze
青铜
13″ x 3.5″ x 8.5″2.5″ x 4″ x 2″
Leah Polle
BED PILLOW
床枕Bronze, Enamel
青铜 搪瓷
8″ x 6″ x 5″
Leah Poller
常年游走在中西方的女艺术家吕美的艺术创作,给我们提供了当下全球艺术创作生态中极富说服力的一个案例,即在艺术上探索上呈现更混合的美学思考空间或"东方传奇"的另一个可能。吕美作品充满着极强的文化属性与形态的博弈感,抽离状。一方面她在创作中非常清晰的叠加或激荡着东方文化对她的启示,于是在不同的作品系列当中,不断挖掘,呈现流淌在自己生命基因里独有的文化预见,判断和表现形态,另一方面她又拥有强大的艺术磁场,非常坚定的把自己丰富的西方游历和生命极致体验,通过西方文化中对物质基本形式的符号化提炼,比如方形,三角形,圆形,和中国传统文化——道对生命形态终极的真谛或抽象,两者进行了超越时空,超越文化属性,跨越身份的转化与维系,生成了自己独特的,连续的视觉体系以及创作方式。因此,观看吕美的艺术作品,需要放在一个更博大的文化刺激与融合,更具挑战的生命哲学与超验维度与背景下,就会看到她的作品给了观者多维文化激荡下东方女艺术家今日创作维度的可能,以及呈现形态的高度与价值。就是在这样不断转换的个体生命时空体验中,她在艺术创作中选择了与生命,与自己精神预见的方式,因此,她更智性的塑造了自己艺术与生命结合的那条照见的心灵回家之路。
Theartworks by Lu Mei, who traveled abundantly between China and the West, providea convincing case in the current art-around-the-world ecology. As such, herartistic discovery provides a varied space for aesthetic thinking and anotherpossibility of an "Oriental Legend". Lü Mei's works present a fierce conflictbetween cultural attributes and formal challenges, and disengagement. On theone hand, the inspiration of oriental culture is explicitly repeated orresonantly apparent in her artworks. In this series, she keeps exploring andrepresenting a unique cultural prediction, judgement and expression that flow throughher genes. On the other hand, she emanates a powerful magnetic field whichenables her to firmly integrate her rich life experiences in the West using thesymbolic abstraction of the basic forms of objects (squares, triangles andcircles), with the ultimate truth or abstraction of Taoism of life forms intraditional Chinese culture. This integration transcends time and space, goingbeyond cultural attributes, and integrates the transformation and maintenanceof identities. It has generated a unique continuity of her visual system and abrand-new approach to art creation. Understanding Lu Mei's artworks demands,broadcultural stimulation and integration, and an intense philosophical andtranscendental setting. Only in this way can we see the multidimensionalpossibilities present in the artworks of an oriental female artist, and the breadthand depth of her representations. It is through this constantly changingindividual experience in time and space that provides her chosen way ofencountering life and spirit in the creation of art. Wisely enough, she hasconstructed her own path home where the spirit will be safeguarded jointly bylife and art.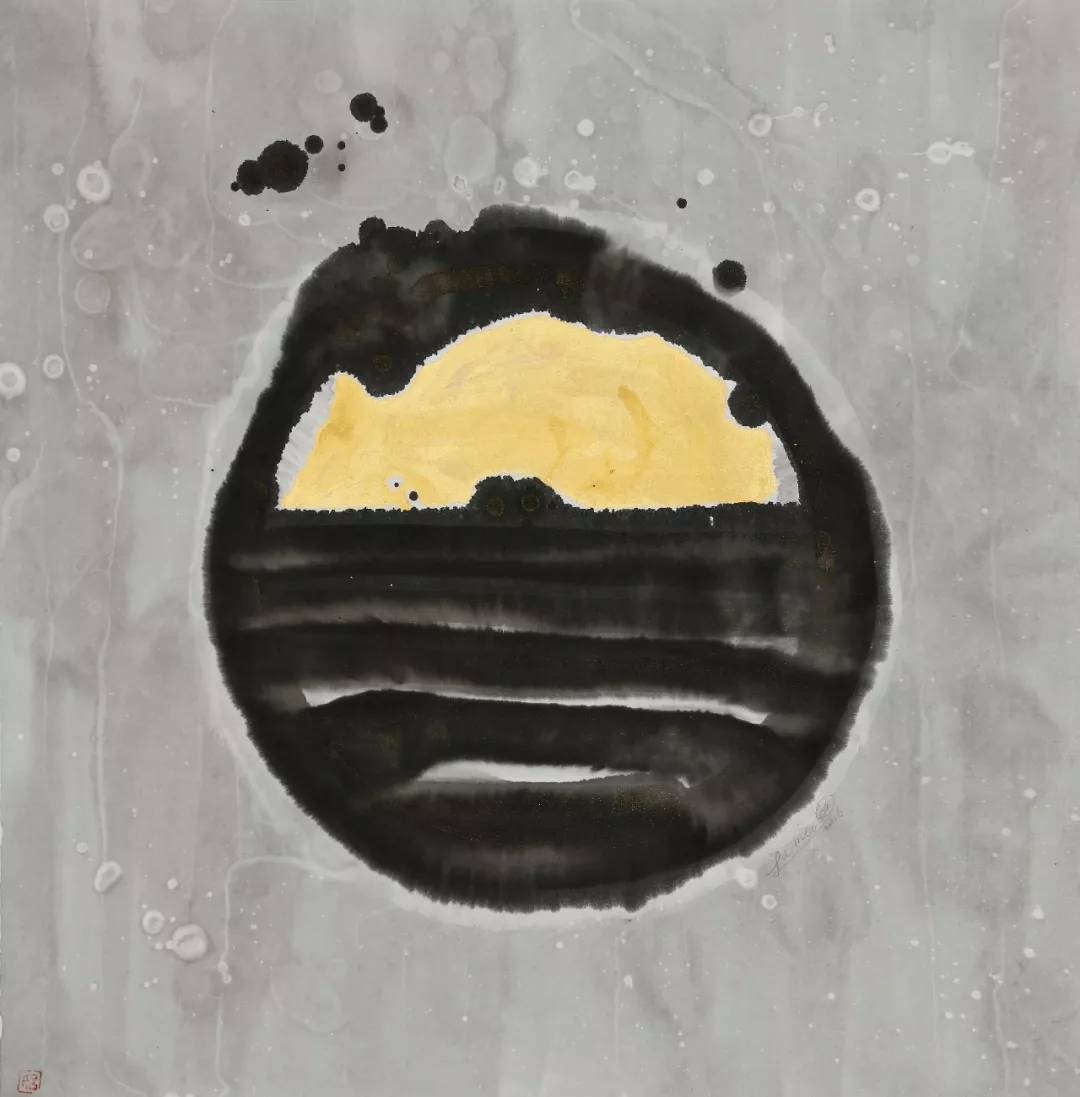 光系列.墨金之三Light series. ink gold.No3
纸上丙烯 墨
Ink & Acrylic on Paper
68 x 68cm
2016
吕美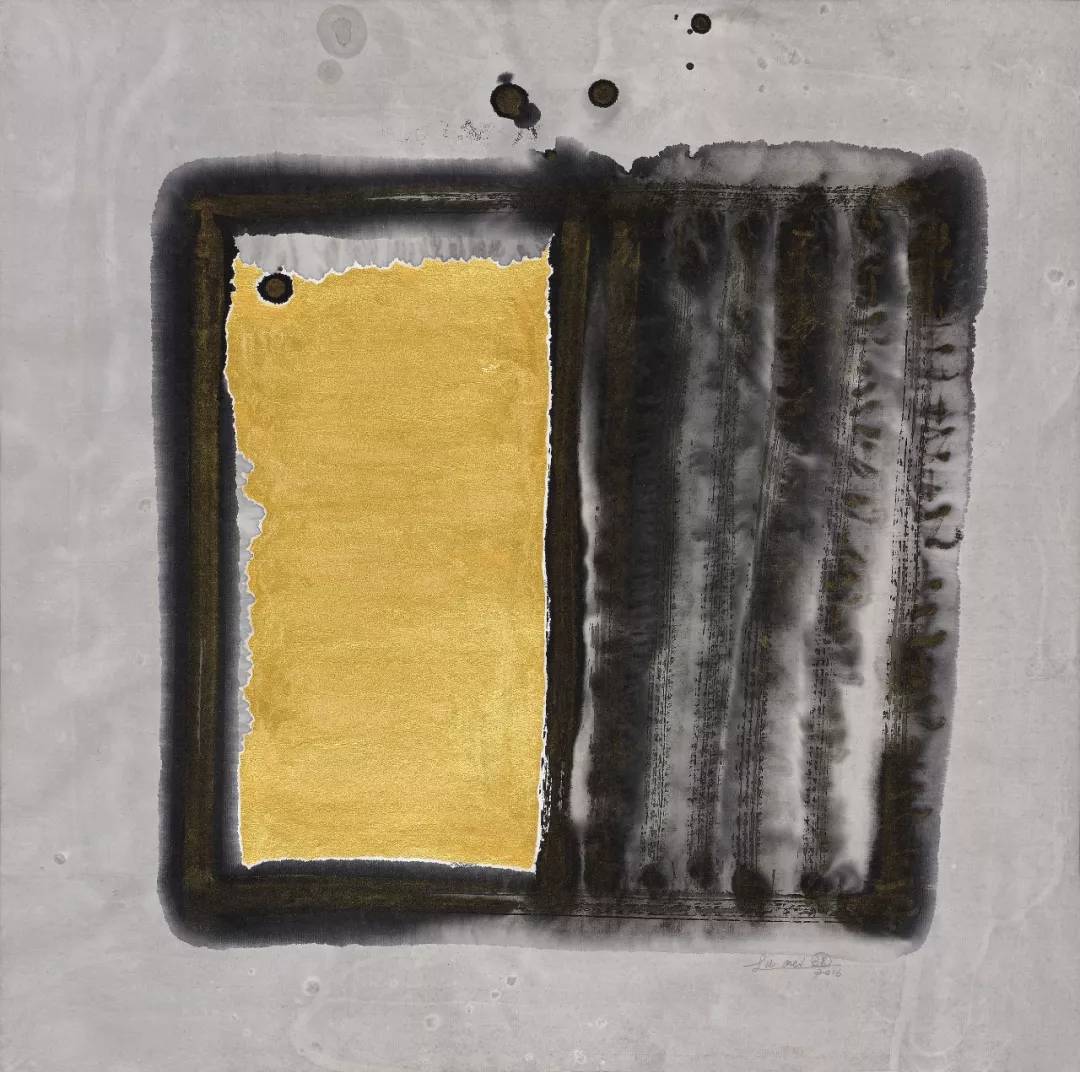 光系列.墨金之二
Light series. ink gold.No2
纸上丙烯 墨
Ink & Acrylic on Paper
68 x 68cm
2016
吕美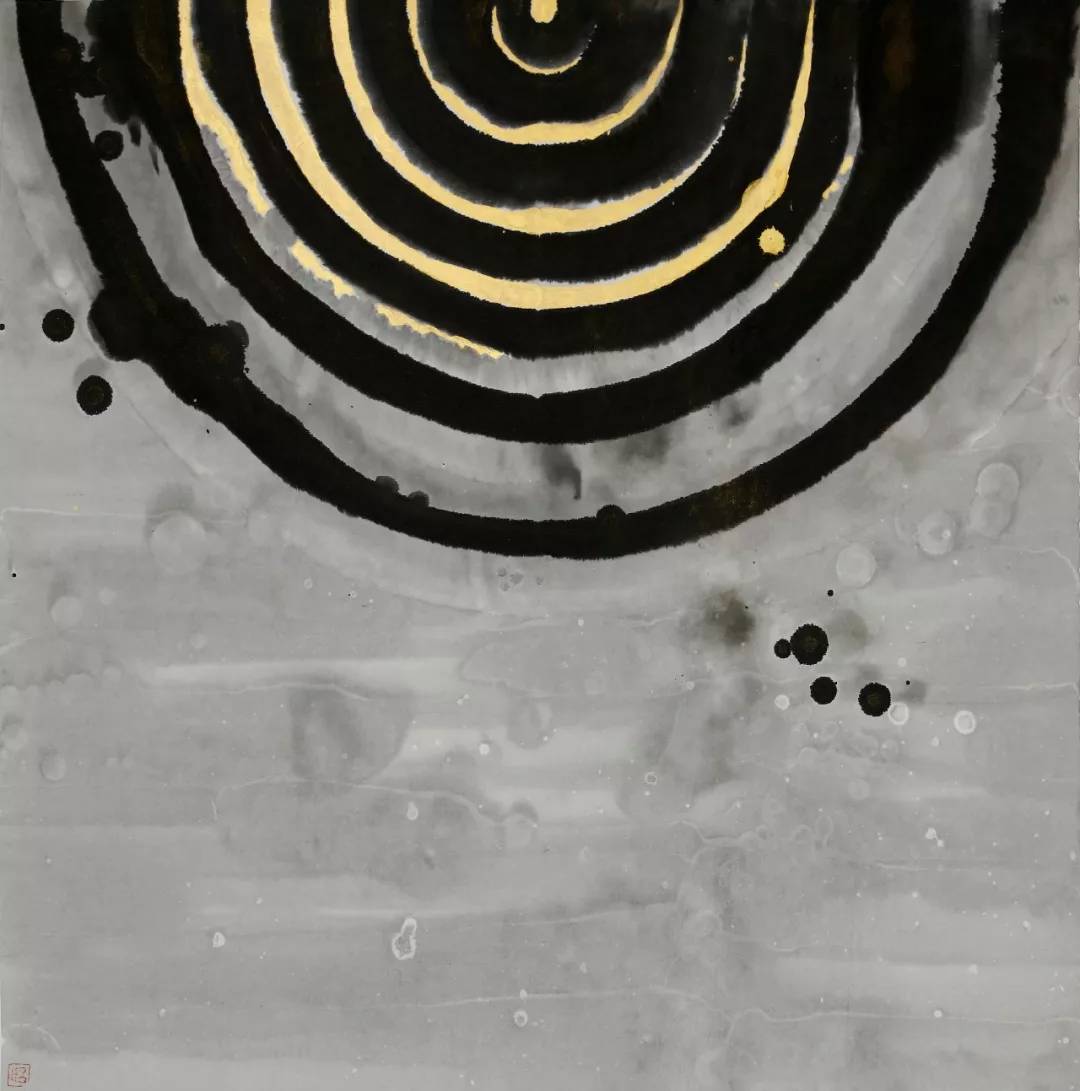 光系列.墨金之五
Light series. ink gold.No5
纸上丙烯 墨
Ink & Acrylic on Paper
68 x 68cm
2016
吕美
光系列.墨金之四
Light series. ink gold.No4
Ink & Acrylic on Paper
68 x 68cm
2016
吕美
光系列.墨金之六
Light series. ink gold.No6
纸上丙烯 墨
Ink & Acrylic on Paper
68 x 68cm
2016
吕美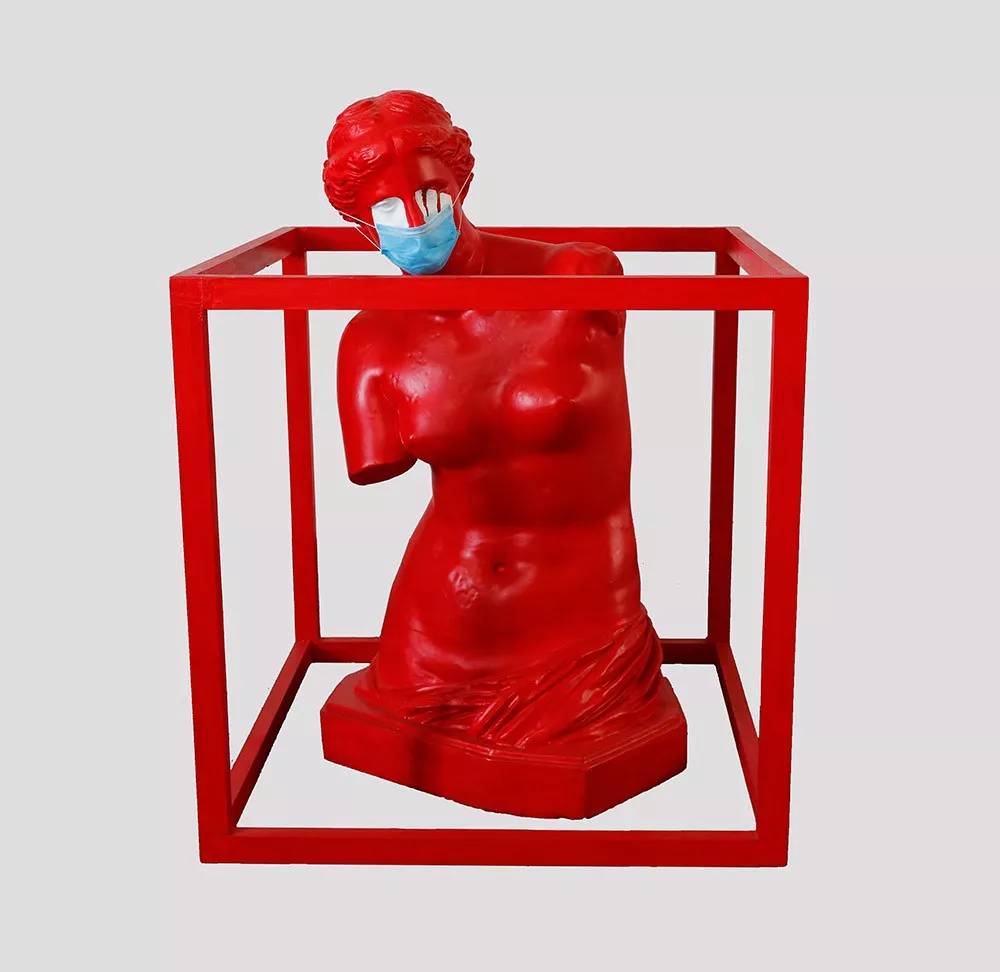 Trapped Goddness
被困的女神
石膏 木
90X90X90 cm
2017
吕美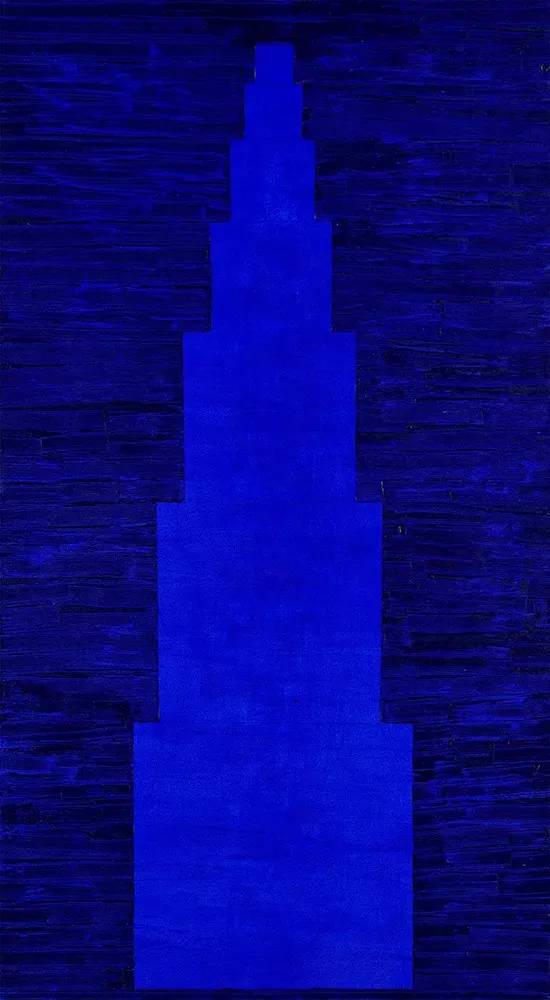 神话之蓝
Blue of Mythology
布上丙烯
Acrylic on Canvas
150X80 cm2018
吕美
作为宋庄艺术节的一部分,慧空间将开启"东方传奇"。9月21日下午2点至5点,Leah Poller 和吕美两位艺术家都将出席。
如需进一步资料,请联络:010-60572554Huispaceinaugurates "Oriental Legends" on September 21 from 2:00 to 5:00 pm as part ofthe Songzhuang Art Festival. Both artists will be present.Forfurther information, contact: 010—60572554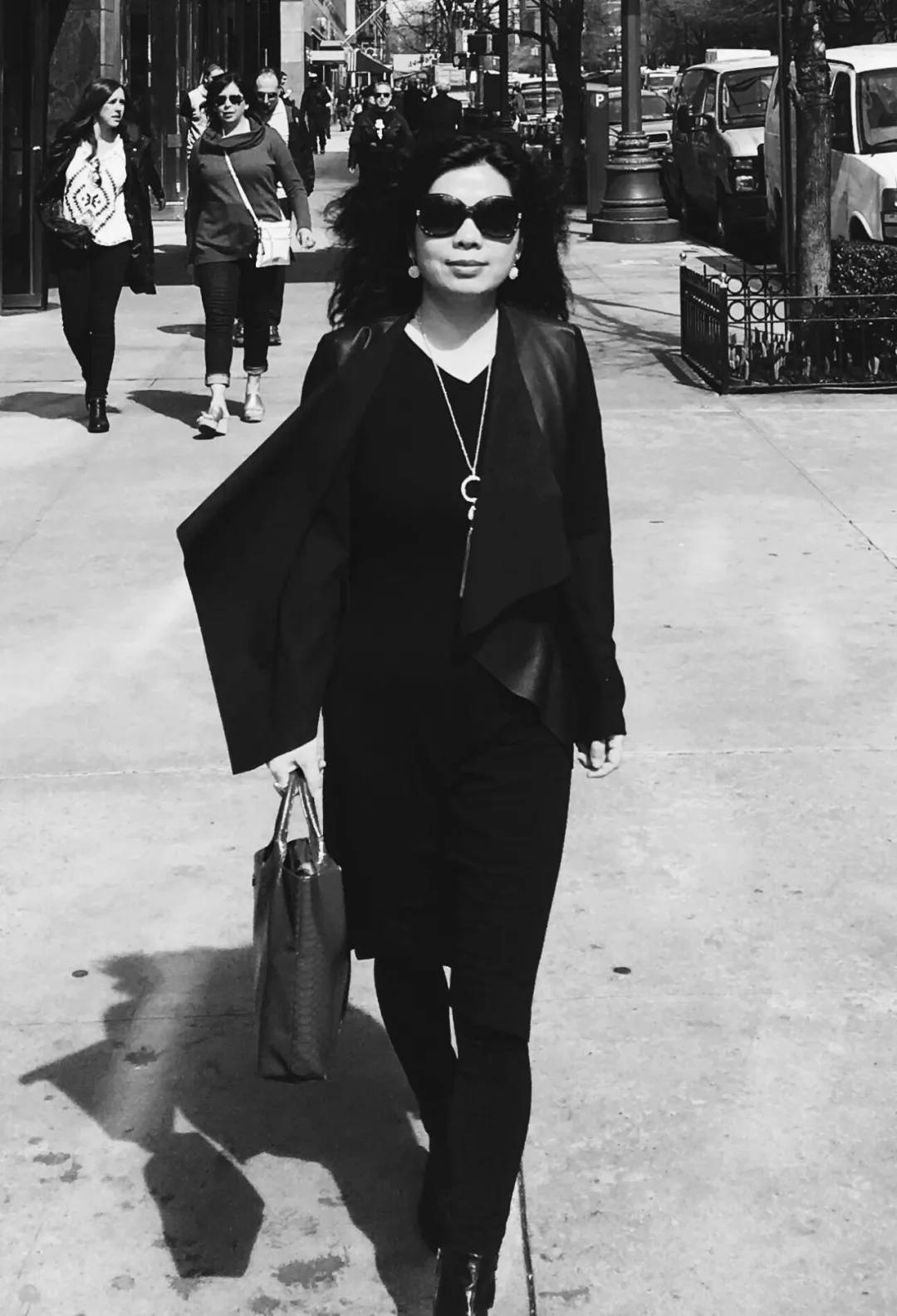 吕美
美籍华裔艺术家,1969年出生于中国河南,研修于中央工艺美院和国际书象学社,纽约艺术学生联盟。2000年移民美国芝加哥,2012年移居纽约。现定居于纽约和北京。美国北美艺术家协会会员,周口师范学院美术学院客座教授。 吕美是一位杰出的艺术家,作品已经在中国、美国和国际上展出。吕美的新作来自她对中国文化的深入研究和个人的生活经历。在她的"塔"系列中,吕美重复并叠加正方形,形成无意识的"塔"结构。这种"向天性"是人类和宇宙相连的道路。"金字塔"穿越地球的引力,是对梦想、精神和未知的追求,这是最终回到精神家园的隐喻阶梯。吕美说:人生就是一场回家的旅行。 吕美的作品曾在中国,美国和欧洲的画廊及美术馆展出,被中国、美国和欧洲的博物馆和私人收藏。
个人主要展览:
2019 "谧" 吕美个展合羽空间北京中国
2018 "吕美个展- Red Dot 迈阿密-巴塞尔" 迈阿密美国
2018 "绘画也是一种思考" 吕美个展易佑文化北京中国
2018 "In The Space Of Elsewhere" 吕美和Sara Willett 双个展伦敦英国
2018 "心迹" 吕美个展中赫画廊北京中国
2018 "Behind Red Door" 吕美个展斯坦福康州美国
2014 "歸"当代水墨个展99美术馆北京中国
LU MEI
Born in Henan China in 1969,Lu Mei graduated from the Fine Arts Academy at the Central Academy ofArts and Design in 1996. Continue studied at International ShuXiang Societyand The Art Student League NY. She currentlylives in New York City and divided her time between her studios in NewYork and Beijing. Lu Mei also serves as a Guest Professor at the prestigiousZhoukou Normal University of Academy of Fine Arts in China. Lu Mei isaleading artist whose paintingshave been exhibited in China, the U.S. and internationally.Lu Mei's new paintings comes fromher intensive study of Chinese culture and her personal life experience. In her"Pyramid" series, Lu Mei repeats and overlays squares to form the "Pyramid" structureof our sub-consciousness."Reaching to the sky" illustrates the pathway thatconnects humans with the universe. "Pyramid" pushes through theearth's gravity in the pursuit of dreams, spirits and the unknown. It isa metaphorical ladder ultimately returning tothe source. According to Lu Mei: Life is a Journey, to return back home. Lu Mei's works are in the collectionof museums and private collectorsin China, the U.S. and Europe.
Solo Exhibitions
2019 "Serenity" Lu Mei Solo Exhibition The GatherSpace Beijing China
2018 "Lu MeiSolo show at Red Dot Miami Basel 2018 " Miami USA
2018 "Painting is also thinking" solo ExhibitionYiyou Culture Gallery Beijing China
2018 "Heart Trace" Lu Mei Solo Exhibition CohimGallery Beijing China
2018 "In The Space Of Elsewhere" Lewisham Arthouse Gallery London UK
2018 " BehindThe Red Door" Lu Mei solo exhibition Stamford CT USA
2014 "Return" Solo Exhibition at Beijing 99 Museum China
Leah Poller
Leah Poller 曾经在法国Beaux Arts Academy 学院学习并居住了20年之久。在此期间她在工作室即兴创作了作品"101 张床"系列。在法国,她一直尝试在视觉和文学角度表现"床"和"生活" 之间的关系。人的一生有1/3的时间是在床上渡过 的;幽默,悲伤,欲望和讽刺等复杂情感在她的三维青铜系列作品中得到了很好的诠释。Poller的作品已在世界各地( 美国,法国,墨西哥,中国)的画廊,博物馆和学院机构展出。最近,Poller 曾被选为第二届北京雕塑双年展(零艺 术中心)唯一的参展外国籍女雕塑家。在纽约,北京,墨西哥,康涅狄格州,迈阿密和布鲁克林等地都可以看到Poller 女士的大型装置雕塑作品。Poller现生活和工作在纽约的哈莱姆。
Leah Poller was trained as a sculptor at the Beaux Arts Academy of Paris, France where she resided for 20 years. Following
an accident in her studio, she began the series entitled "The 101 Bed Collection", in which she examines our relationshipwith the bed in all its visual, literary and narrative forms. More than a third of our life is spent in bed, yet rarely has it been examined with such humor, pathos, whimsy, sarcasm, tragedy and passion as in her 3 dimensional bronze interpretations. Poller's work has been exhibited extensively in galleries, museums and institutions worldwide (US, France, Mexico, China). In addition, Poller was selected as the only foreign born artist for the Second Beijing Biennale of Feminine Sculptors (Zero Gallery). Her large scale installations and commissions have been exhibited in New York City , Beijing, Mexico, Connecticut, Miami and Brooklyn. Poller lives and works in Harlem, NY.返回搜狐,查看更多
责任编辑: