华为发布算力最强AI处理器
"昇腾910"相当于50个最新最强CPU,功耗比设计规格更低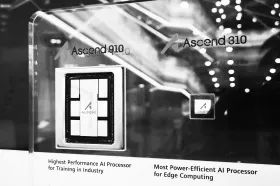 华为8月23日发布AI处理器昇腾910及全场景AI计算框架MindSpore,这是华为AI处理器 Ascend910和
距李世石与"阿尔法狗"那场"人机大战"已过去3年,人工智能热度越来越高,渗入各行各业并引起行业新变革。
Three years after Li Shishi and Alpha Dog's man-machine war, artificial intelligence has become more and more popular, penetrating into all walks of life and causing new changes in the industry.
继推出鸿蒙操作系统后。8月23日,华为对外正式发布商用AI芯片——Ascend910(昇腾910),以及与之配套的新一代AI开源计算框架MindSpore。那么什么是AI芯片,牛在哪里,它又能做什么?
Following the launch of Hongmeng Operating System. On August 23, Huawei officially released commercial AI chip Ascend 910 (Rising 910) and a new generation of AI open source computing framework MindSpore. So what is an AI chip, where is the cow, and what can it do?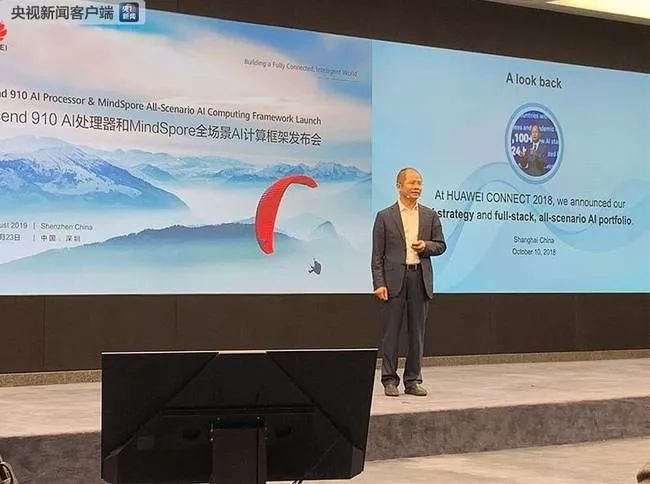 人脸识别、物体识别、智能翻译等人工智能(AI)功能,仅一部智能手机就可实现。这依仗的是手机算力的大幅提升。
Artificial intelligence (AI) functions, such as face recognition, object recognition and intelligent translation, can be realized by only one smart phone. This relies on a substantial increase in the power of mobile phones.
你可能想不到,如今任何普通智能手机的算力,甚至比美国航空航天局1969年登月计划中最先进计算机还高出几百上千万倍。其中,手机芯片的运算能力正是重要的基石。8月23日,华为发布的"昇腾910"就是这样一款AI芯片,不光算力强大,还是低功耗。
You may not imagine that any ordinary smartphone today has tens of millions of times the power of even the most advanced computer in NASA's 1969 lunar landing program. Among them, the computing power of mobile phone chips is an important cornerstone. On August 23, Huawei released Sheng Teng 910, an AI chip, which is not only powerful in calculation, but also low in power consumption.
比现有主流配置性能提升近2倍
Nearly twice the performance of existing mainstream configurations
什么是芯片?"芯片犹如人的大脑。智能机器要是没有了芯片,就如同一堆废铜烂铁。AI芯片是人工智能的核心,未来各巨头在人工智能领域的争夺,也就是AI芯片的争夺。"移动互联网资深人士陈剑锋说。
What is a chip? "Chips are like human brains. Intelligent machines without chips are like a pile of scrap copper and scrap iron. AI chips are the core of AI. The future giants will compete in the field of AI, that is, AI chips. Chen Jianfeng, a senior mobile Internet person, said.
"AI芯片可以分两个范畴,一是训练,一是推理。"电子创新网创始人、半导体技术专家张国斌表示,所谓训练,就是给机器"喂"大数据,让它慢慢学会识别和区分对象;所谓推理,就是让训练好的机器干活。华为轮值董事长徐直军介绍,华为已经把"昇腾910"用于实际AI训练任务。
AI chips can be divided into two categories: training and reasoning. Zhang Guobin, founder of Electronic Innovation Network and semiconductor technology expert, said that the so-called training is to "feed" big data to the machine and let it slowly learn to identify and distinguish objects; the so-called reasoning is to let the trained machine work. Xu Zhijun, chairman of Huawei's rotating board, said that Huawei had already used "Sheng Teng 910" for actual AI training tasks.23日当天华为还推出了全场景AI计算框架MindSpore,相当于AI世界的操作系统。"昇腾910"与之配合,比现有主流配置性能提升接近2倍。"昇腾910"是当前全球算力最强、训练速度最快的AI芯片,相当50个当前最新最强的CPU;其训练速度,也比当前最新最强的芯片提升了50%-100%。此外,它的功耗也低,达到规格算力所需功耗仅310W,明显低于设计规格的350W。
Huawei also launched MindSpore, the full-scene AI computing framework, on the 23rd, which is equivalent to the operating system of AI world. "Rising 910" with its coordination, compared with the existing mainstream configuration performance improvement nearly twice. "Shengteng 910" is the most powerful AI chip with the fastest training speed in the world, which is equivalent to 50 latest and strongest CPUs. Its training speed is also 50% - 100% higher than the latest and strongest chips. In addition, its power consumption is also low. The power consumption required to reach the specifications is only 310W, which is significantly lower than the 350W of the design specifications.
未来,针对不同的场景,包括边缘计算、自动驾驶车载计算、训练等场景,华为将持续投资,推出更多的AI处理器。
In the future, Huawei will continue to invest in more AI processors for different scenarios, including edge computing, automobile computing, training and so on.
"达芬奇计划"助力城市安全
"Da Vinci Plan" Helps Urban Safety
AI现在已经应用非常广泛。举个例子,当你希望使用语音输入,说话时,AI会对当前语境和内容进行细致分析,从而实现高准确率的识别体验,将语音转换为文字的准确率提高。
AI is now widely used. For example, when you want to use voice input to speak, AI will carefully analyze the current context and content, so as to achieve a high-accuracy recognition experience and improve the accuracy of converting voice into text.
很多人喜欢旅游,想记录旅程就少不了拍照。AI的出现,同样为喜欢手机摄影的用户带来不少福利。配合人工智能的计算机视觉分析,手机能自动分析画面内的物体,并选择当前最佳的拍照模式,甚至可以进行物体追踪对焦和预测用户拍照时机,提供前所未有的拍照体验。
Many people like traveling, so taking pictures is necessary if they want to record their journeys. The emergence of AI also brings a lot of benefits to users who like mobile phone photography. With the computer vision analysis of artificial intelligence, mobile phones can automatically analyze the objects in the picture, and select the best photographing mode at present. They can even track and focus objects and predict the user's photographing opportunity, providing an unprecedented photographing experience.
此外,华为的AI技术已经在很多场景得到应用。华为去年推出了昇腾310AI芯片,也就是"昇腾910"同系列产品。华为和很多国内外主流车企在园区巴士、新能源车、自动驾驶等场景已经深入合作;与数十家伙伴在智慧交通、智慧电力等数十个行业落地行业解决方案;基于昇腾310,华为云提供了图像分析类服务、OCR服务、视频智能分析服务等云服务。
In addition, Huawei's AI technology has been applied in many scenarios. Huawei launched Shengteng 310AI chip last year, which is the same series of products as Shengteng 910. Huawei has cooperated with many domestic and foreign mainstream automobile companies in park buses, new energy vehicles, automatic driving and other scenarios; with dozens of partners in intelligent transportation, intelligent power and other industries landing industry solutions; based on Rising 310, Huawei cloud provides image analysis services, OCR services, video intelligent analysis clothing. Wait for cloud services.华为目前致力于将AI引入公司一切产品和服务中,包括电信基站和云数据中心、智能手机和监控摄像头等设备。而"达芬奇计划"就是这一系列想法的尝试。
Huawei is currently committed to introducing AI into all its products and services, including Telecom base stations and cloud data centers, smartphones and surveillance cameras. The Da Vinci Project is an attempt at these ideas.
通过"达芬奇计划"得到改造的业务之一是华为的"安全城市"业务。华为目前可通过AI驱动的监控摄像机,捕获图像并发送到远程数据中心,实现地方政府监控数据的收集和分析,并向警方发出警报,如自动识别交通事故、盗窃事件和街头斗殴等。
One of the businesses revamped through the Da Vinci Project is Huawei's "Safe City" business. Huawei can now capture images and send them to remote data centers via AI-driven surveillance cameras to collect and analyze local government surveillance data and alert the police, such as automatic identification of traffic accidents, thefts and street fights.
分析 华为频频亮剑展示自身能力
Analysis of Huawei's Frequent Bright Sword Showing Its Ability
AI成为第一生产力,这个观点是华为通过自身的实践总结出来的。自2017年起,华为就确定了构建万物互联的愿景。华为认为,人工智能所带来的改变将涉及所有行业,包括交通、教育、医疗和金融。为此,华为制定了AI发展战略。
The view that AI becomes the first productive force is summarized by Huawei through its own practice. Since 2017, Huawei has defined its vision of building interconnection. Huawei believes that the changes brought about by AI will involve all sectors, including transportation, education, health care and finance. To this end, Huawei has formulated an AI development strategy.
华为预测,到2025年全球的智能终端数量将会达到400亿台,智能助理的普及率将达到90%,企业数据的使用率将达到86%。可以预见,在不久的将来,AI将作为一项通用技术极大地提高生产力,改变每个组织和每个行业。作为重要的技术基础,AI芯片在其中发挥着重要作用。
Huawei predicts that by 2025, the number of intelligent terminals in the world will reach 40 billion, the popularity of intelligent assistants will reach 90%, and the utilization rate of enterprise data will reach 86%. It can be predicted that in the near future, AI will greatly improve productivity as a general technology, changing every organization and every industry. As an important technology foundation, AI chip plays an important role in it.
徐直军表示:如果说算力的进步是当下AI大发展的主要驱动因素,那么,算力的稀缺和昂贵正在成为制约AI全面发展的核心因素。AI芯片能解决这个问题。
Xu Zhijun said: If the progress of arithmetic is the main driving factor for the development of AI, then the scarcity and high cost of arithmetic are becoming the core factors restricting the all-round development of AI. AI chip can solve this problem.
其次,在芯片设计方面,华为已经积累了多年经验。华为以及整个产业,多年来都在挑战神经网络在芯片领域的应用难题。
Secondly, Huawei has accumulated many years of experience in chip design. Huawei and the whole industry have been challenging the application of neural networks in chip field for many years.
AI芯片也是华为在不公平待遇之下的"自我求生"。继海思芯片,鸿蒙系统之后,华为推出AI芯片,华为近期频繁在重要技术领域"亮剑",表现出理性又积极的一面,向外界展现出较强的自力更生能力。
AI chip is also Huawei's "self-survival" under unfair treatment. Following Haisi chip and Hongmeng system, Huawei launched AI chip. Recently, Huawei frequently "shines the sword" in important technical fields, showing a rational and positive side, showing a strong ability of self-reliance to the outside world.
华为正在向外界传递一个重要信号:即华为可以不依赖美国企业发展自身,美国对于华为的打压并不能切断华为的发展。
Huawei is sending an important signal to the outside world that Huawei can develop itself without relying on American enterprises, and that the US crackdown on Huawei cannot cut off its development.返回搜狐,查看更多
责任编辑: