IMCPI国际汉语教师文化素养"小课堂",带你览千里江山,看世界文化。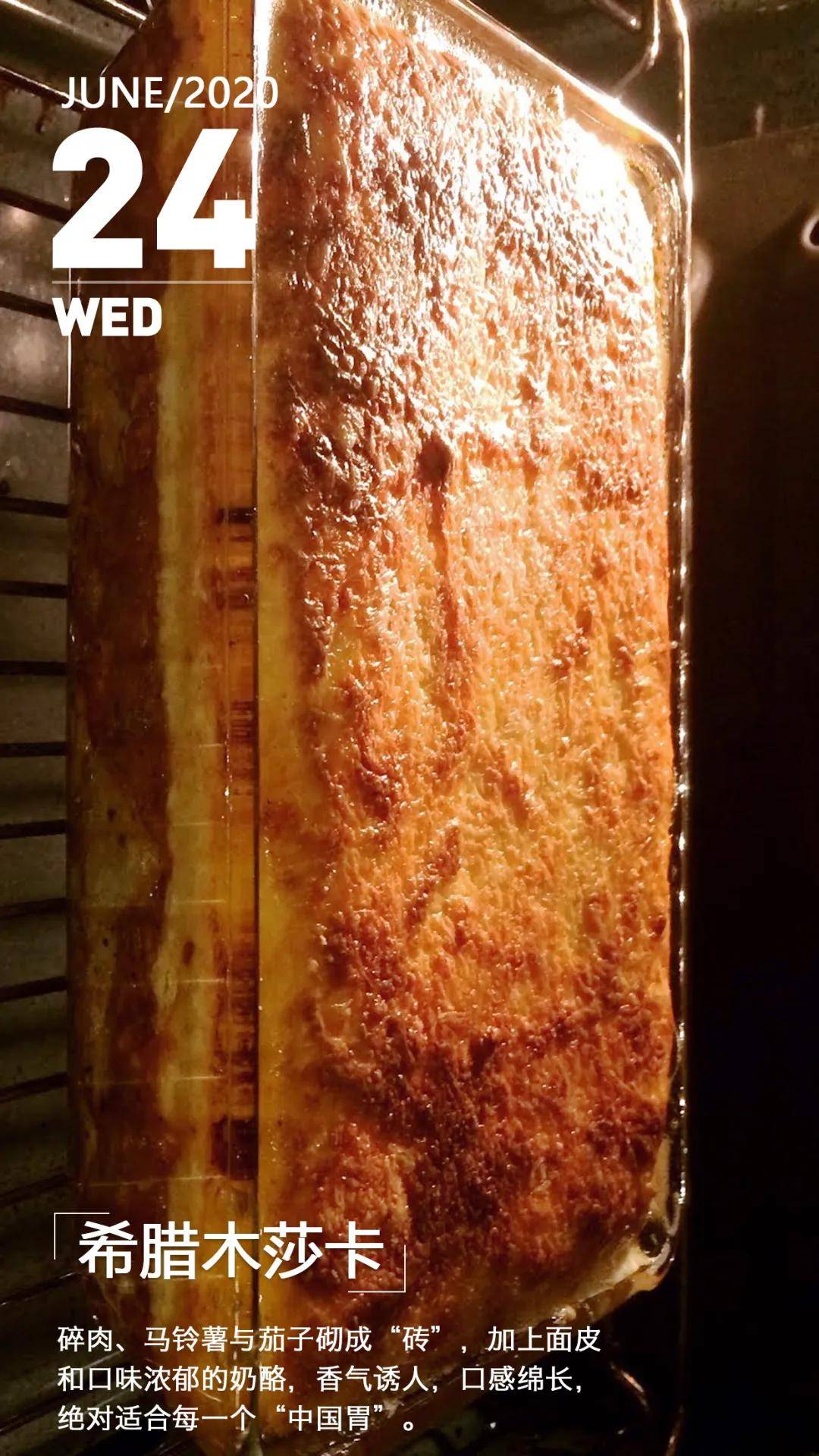 A staple of Greek cuisine, you could argue that there's nothing better than a real homemade moussaka.
Moussaka is a baked meat and eggplant casserole covered with a thick layer of béchamel sauce that turns crispy and golden. There are various versions of it, some which employ the use of other vegetables, such as zucchini or potatoes. This dish is also present in the Balkans and Turkey, but their version is not layered and includes minced beef. The million-dollar question is, where did it originate?
The origin
No one knows what the exact origin of moussaka is, although it is widely believed that the Arabs introduced the dish when they brought the eggplant into the area.
Turabi Efendi published the Turkish Cookery Book in 1862, where the first recipe of moussaka can be found.
In 1920, under Ottoman occupation, Nikos Tselementes, a Constantinople-born and France-educated Greek chef from Sifnos who is known for the modernization of Greek cuisine,decided to 'cleanse' Greek cuisine from any Turkish influence. With moussaka, he added French béchamel sauce in an attempt to Europeanize the dish.
So the moussaka we know today is a modernized, European version of a dish of Arabic origin, introduced to Greece via Turkey.
Please stop smashing your computers or mobile phones when you read this my Greek friends and let's just share and enjoy this irresistible cuisine with the rest of the world. Shall we?
Ingredients
3 potatoes
7-8 tablespoon(s) olive oil
3 round eggplants
Thyme
Salt
Pepper
2 cups plain breadcrumbs
For the ground meat
1 onion
1 clove(s) of garlic minced
3 pinches granulated sugar
1/2 teaspoon(s) nutmeg
1 level teaspoon(s) cinnamon
1 tablespoon(s) tomato paste
500 g ground lamb
400 g canned tomatoes
For the béchamel sauce
100 g butter
100 g all-purpose flour
750 ml milk(warmed)
pepper, ground
1 pinch nutmeg, ground
100 g parmesan cheese, grated
4 egg yolks
Steps:
Preparethe Vegetables
1.Using a sharp peeler to peel the eggplants. Slice the eggplant into 1cm slices.
2. Place the eggplant slices in a colander and salt them liberally. Cover them with an inverted plate and weigh down the plate with a heavy can or jar. Place the colander in the sink and let it sit for at least 15 to 20 minutes, preferably 1 hour.
3. Peel the potatoes, place whole in a pot, cover with cold water, and bring to a boil. Cook until they are just done, about 10 minutes. They should not get too soft, just cooked enough so that they no longer crunch. Drain, cool, and cut them into half cm slices. Set a side.
4. Heat the oven to 200°C. Line two baking sheets with aluminum foil and lightly grease with oil.
5. Add a splash of water to the egg whites and beat them lightly with a fork. Place breadcrumbs on a flat plate.
6. Rinse the eggplant slices and dry with paper towels. Dip the eggplant slices in the beaten egg whites and then dredge them in the breadcrumbs, coating both sides.
7. Place breaded eggplant slices on the foil-lined baking sheets and bake for 30 minutes, turning them over once during cooking.
8. When eggplant is finished cooking, set aside and lower the oven temperature to 160°C.
Make the Meat Filling
1.In a large sauté pan, brown the ground lamb until the pink color disappears. Add onion and sauté until translucent, about 5 minutes. Add garlic and thyme and cook until fragrant, about 1 minute.
2. Add wine to the pan and allow it to simmer and reduce abit before adding cinnamon, tomato paste, crushed tomatoes, and sugar.
3. Allow the sauce to simmer, uncovered, for approximately 15 minutes so that excess liquid can evaporate. It should be a drier,chunkier sauce. Season to taste with salt and pepper.
Make the Béchamel Sauce
1. In a large sauce pan, melt butter over low heat. Add flour to melted butter, whisking continuously to make a smooth paste. Let the flour cook for a minute but do not allow it to brown.
2. Add warmed milk to mixture in a steady stream, whisking continuously. Simmer over low heat until it thickens a bit but does not boil.
3. Remove from heat, and stir in beaten egg yolks and pinch of nutmeg. Return to the heat and stir until sauce thickens. Set aside.
Assemblethe Moussaka
1. Lightly grease a large deep baking pan (a lasagna pan works perfectly). Sprinkle the bottom of the pan with breadcrumbs.
2. Leaving a 0.5 cm space around the edges of the pan, place the potatoes in a layer on the bottom. Top with a layer of half of the eggplant slices.
3. Add the meat sauce on top of the eggplant layer and sprinkle with 1/4 of the grated cheese. Top with another layer of eggplant slices and sprinkle once again with 1/4 of the grated cheese.
4. Pour the béchamel sauce over all, being sure to allow the sauce to fill the sides and corners of the pan. Smooth the béchamel on top with a spatula and sprinkle with remaining grated cheese.
5. Bake for 45 minutes or until béchamel sauce is a nice golden brown color. Allow it to cool for 15 to 20 minutes before slicing and serving.
Spring is here and let's live everyday to the fullest !
Bon appetit!
With love,
Papa Greek返回搜狐,查看更多
责任编辑: